TACOMA, Wash., Jan. 18, 2023 (GLOBE NEWSWIRE) -- Harbor Custom Development, Inc. (Nasdaq: HCDI, HCDIP, HCDIW, HCDIZ) ("Harbor," "Harbor Custom Homes®," or the "Company"), an innovative and market leading real estate company involved in all aspects of the land development cycle, today announced it is now leasing apartments in Yelm, Washington.
Wyndstone Apartments are comprised of four three-story buildings, including four floorplans consisting of one-bed, one-bath, and two-bed, two-bath, and three-bed, two-bath, and two-bed, two-bath apartment units featuring an upstairs bonus room. The 76-unit complex is conveniently located approximately 20 miles between Washington State's capital of Olympia and Joint Base Lewis-McChord near Lakewood. JBLM is a major U.S. military installation with an active population of nearly 210,000 inhabitants, making it the fourth largest military installment worldwide by population.
The project's construction began in February 2022 and available to tenants in mid-January 2023, offering six months to one-year leasing options. Wyndstone Apartment units range from 790 square feet to 1,451 square feet, with rent rates starting at $1,745 to $2,250 a month. The estimated completion of the entire project is expected for the first quarter of 2023.
"We are excited to introduce Wyndstone Apartments to the growing community of Yelm. We believe tenants will find our upgraded finishes and unique flex space in the loft apartments set us apart from the competition. The lofts offer tenants the opportunity for additional entertainment space, a dedicated office, or room for the children to play," said Jeff Habersetzer, COO of Harbor Custom Development, Inc. "The initial interest at Wyndstone has been strong and we anticipate this to continue as we bring more buildings online."
Wyndstone Apartments offer comparable finishes to a new construction home, featuring quartz countertops, stainless steel kitchen appliances, an in-unit washer and dryer, and premium flooring. The community offers carports and garages for rent. Tenants have access to the recreational building amenities, including a common area with a pool table and kitchenette, an ADA fitness center on the first level, an additional fitness center upstairs, and conference room.
The community is one of six projects Harbor Custom Development, Inc. listed with Kidder Mathews earlier this year, including Pacific Ridge in Tacoma, 80 units; Meadowscape in Olympia, 177 units; Bridgeview Trails in Port Orchard, 138 units; Belfair View Apartments in Belfair, 228 units; and Mills Crossing in Bremerton, 36 units.
Wyndstone Apartments are located at 15025 Tahoma Blvd SE, Yelm, WA 98597, off State Route 510 in Thurston County. For more information about leasing, visit HarborCustomDev.com or call (253) 344-3331.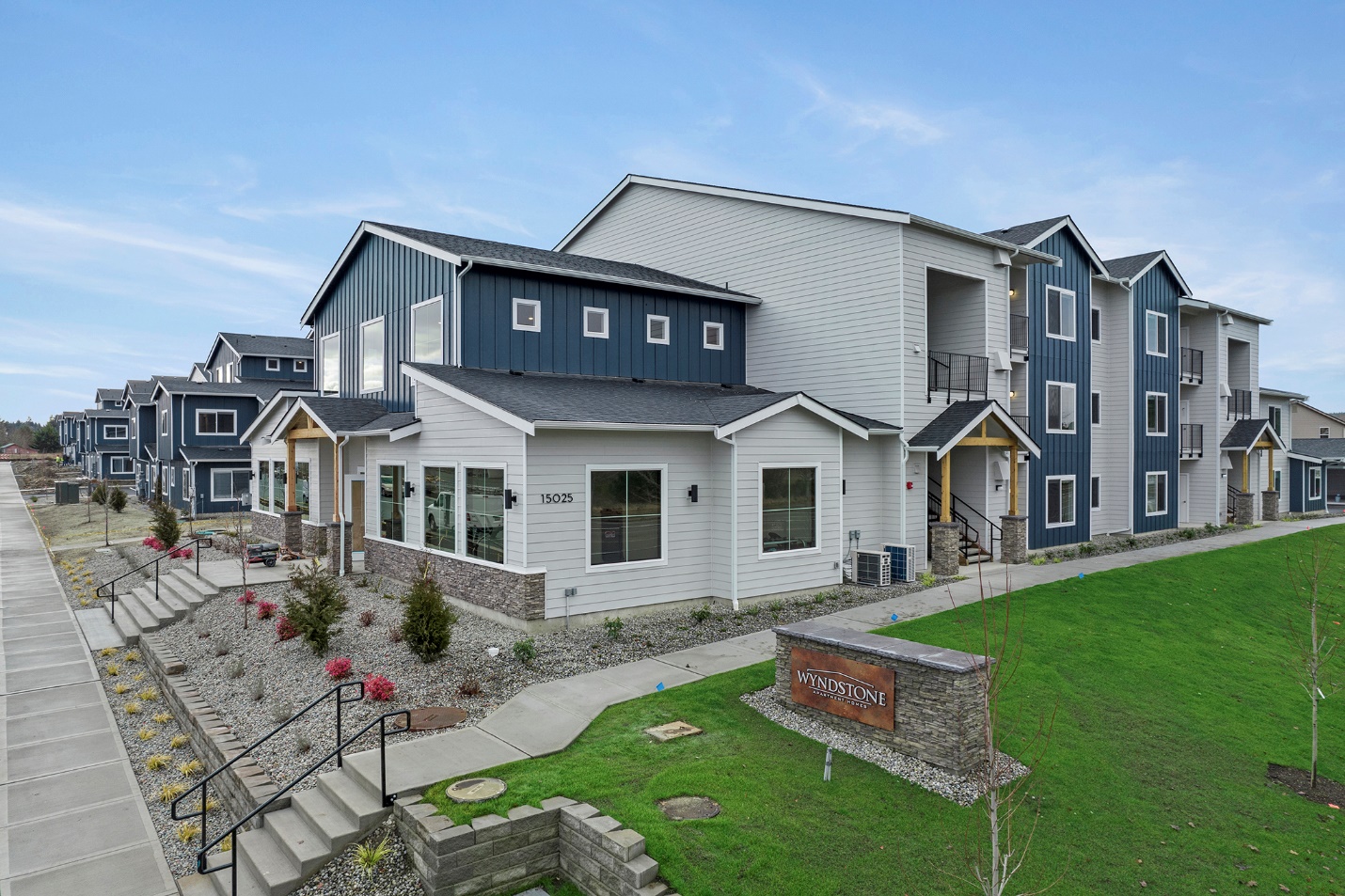 Wyndstone Apartments in Yelm feature four floorplans ranging from 790 square feet to 1,451 square feet and rent rates starting at $1,745 a month.
About Harbor Custom Development, Inc.
Harbor Custom Development, Inc. is a real estate development company involved in all aspects of the land development cycle including land acquisition, entitlements, construction of project infrastructure, home and apartment building, marketing, and sales of various residential projects in Western Washington's Puget Sound region; Sacramento, California; Austin, Texas and Punta Gorda, Florida. As a land developer and builder of apartments, and single-family luxury homes, Harbor Custom Development's business strategy is to acquire and develop land strategically based on an understanding of population growth patterns, entitlement restrictions, infrastructure development, and geo-economic forces. Harbor focuses on acquiring land with scenic views to develop and sell residential lots, new home communities, and multi-story apartment properties within a 20 to 60-minute commute of the nation's fastest-growing metro employment corridors.
Forward-Looking Statements
Certain statements in this press release constitute "forward-looking statements" within the meaning of the federal securities laws. Words such as "may," "might," "should," "believe," "expect," "anticipate," "estimate," "continue," "predict," "forecast," "project," "plan," "intend" or similar expressions, or statements regarding intent, belief, or current expectations, are forward-looking statements. These forward-looking statements are based upon current estimates and assumptions. While the Company believes these forward-looking statements are reasonable, undue reliance should not be placed on any such forward-looking statements, which are based on information available to us on the date of this release. These forward-looking statements are subject to various risks and uncertainties, including without limitation those set forth in the Company's filings with the Securities and Exchange Commission. Thus, actual results could be materially different. The Company expressly disclaims any obligation to update or alter statements whether as a result of new information, future events or otherwise, except as required by law.
Investor Relations
Hanover International
IR@harborcustomdev.com 
866-744-0974