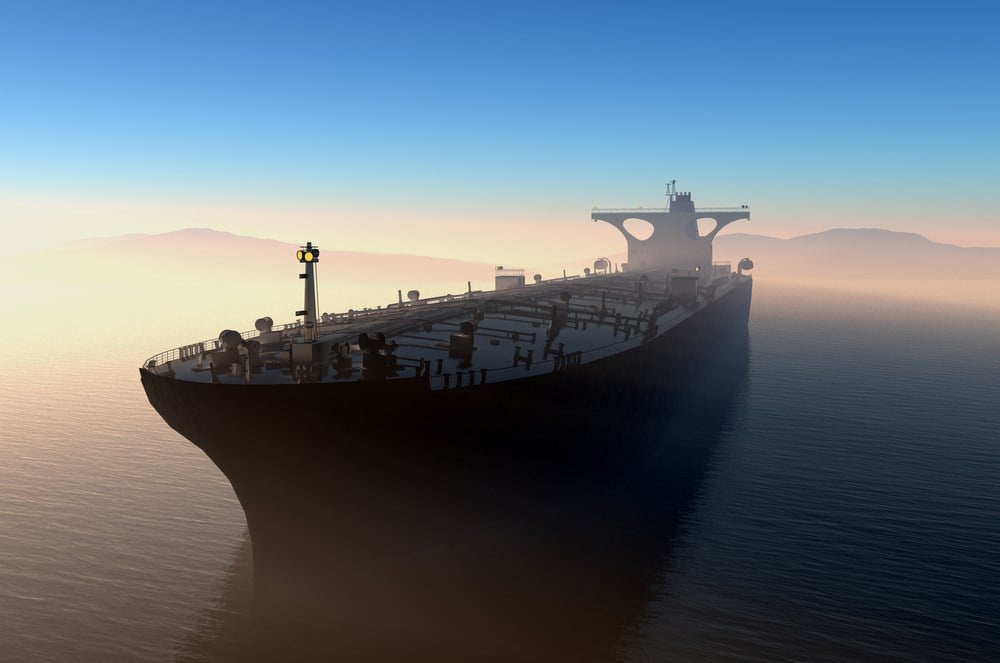 Would you want to know about an industry with numerous stocks whose dividend yields top 11%?
Look no further. 
Oil tankers as a group sailed to a strong rally during the two years between November 2020 and November 2022. Stocks in the industry corrected throughout much of this year, but are close to breaking out of a shallow decline.
Let's take a look at a little-known oil tanker stock Frontline plc (NYSE: PLC), a Bermuda-based company that's up 41.44% in the past three months and 74.55% year-to-date.
On September 29, the stock cleared a handle buy point north of $18.75, but ideally, you'd like to see that rally continue; the stock only rose to $18.84, just 9 cents higher than the high of the handle.
What's Behind Frontline's Success?
While that price action is encouraging, an even bigger story about Frontline is the Frontline dividend yield of 17.04%. 
So what's up with the stock's success on two levels? 
As you might guess, oil tankers' fortunes are closely linked to oil prices. Higher prices typically drive increased demand for oil transportation, while lower prices can lead to reduced shipping activity and lower earnings for tanker companies.
When prices are low, competition for shipping contracts intensifies, meaning tanker companies are willing to negotiate lower rates.
With oil prices rising, lower rates and lower revenues aren't a problem. 
Tankers Rally With Broader Energy Sector
In the context of rising oil prices, the 2023 trajectory of the oil tanker industry makes intuitive sense. In the first five months of 2023, the Energy Select Sector SPDR Fund (NYSEARCA: XLE) declined in the first six months of the year. However, as the broad sector rallied, so did the sub-industry of oil tankers. 
As a group, the oil tankers are not household names, in the way that blue chip stocks like Chevron Corp. (NYSE: CVX) and Exxon Mobil Corp. (NYSE: XOM) are. That's understandable, as these companies serve business customers in a gritty industry, far from the glitz and glamor of Silicon Valley. 
In a September investors' presentation, Frontline dubbed itself a "cash machine," citing its strong liquidity, with $719 million in cash and cash equivalents at the end of the second quarter. 
On August 24, Frontline reported its highest second-quarter profit since 2008, coming in at $210 million or 94 cents a share. Its current cash dividend payout is 80 cents a share. 
Earnings grew at a rate of 327% in the most recent quarter, while revenue grew by 71%. Earnings have been increasing at triple- or quadruple-digit rates in the past five quarters, while revenue grew at double- or triple-digit rates during that time. 
Wall Street expects Frontline to earn $2.77 a share, an increase of 74% over 2022, which was already a huge improvement over 2021. 
Industry Rivals Also Boast Robust Growth
In addition to Frontline, leading tanker companies include International Seaways Inc. (NYSE: INSW), Teekay Tankers Ltd. (NYSE: TNK) and Euronav NV (NYSE: EURN), all of which boast stellar revenue and earnings growth. 
A September report by shipping industry research firm Bimco forecast that the crude tanker market will see cargo volume growth between 2% and 3% this year, rising to a range between 3.5% and 4.5% in 2024.
So what about that sky-high dividend yield? Is that the elephant in the room? What risks does that kind of dividend entail? 
The oil tanker industry is known for being home to high-yield stocks because it operates in a cyclical market. When oil prices are high, tanker companies typically see increased demand for their services, leading to higher revenues and profits. 
During these extremely profitable cycles, companies tend to distribute a significant portion of their earnings to shareholders in the form of dividends, attracting income-seeking investors. However, this high dividend yield can be susceptible to fluctuations in oil prices and market conditions.
Frontline, like other companies in its industry, has a history of cutting or eliminating the dividend as the business slows down.