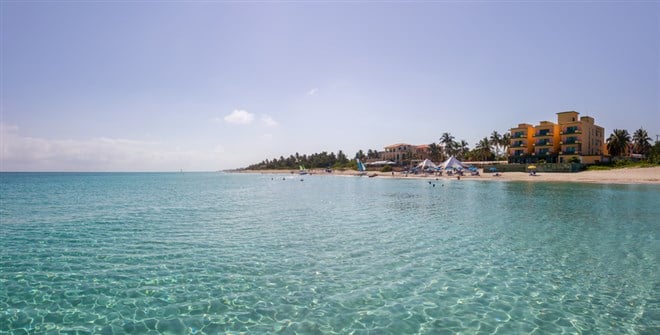 It's always important to be able to filter out the noise that surrounds your investment options. In a week like this, it's hard to do. But it may be essential to evaluate the opportunity with Bluegreen Vacations Holding Corp. (NYSE: BVH). 
The timeshare vacation ownership company posted a strong earnings report on March 13, 2022. But macroeconomic concerns are weighing on BVH stock. In midday trading the day after the report, the stock is down 21.9% from its closing price on March 10.  
Specifically, the company reported earnings per share of 67 cents which beat analysts' expectations for 64 cents. On a year-over-year (YOY) basis, earnings were up 27.8%.  
It was a similar story on the top line. The company posted $237.97 million, more than the $208.96 million analysts expected, and was a 17% YOY improvement. That number included a 12% increase in sales of vacation ownership interests (VOIs) - a key metric for the company.  
However, with many investors fleeing to the safety of U.S. treasuries in the wake of the collapse of Silicone Valley Bank, even a strong earnings report wasn't enough to lift BVH stock. But if the demand for travel remains strong (a big if), Bluegreen Vacations looks like an undervalued stock to buy.  
The Right Stock for the New Normal 
The phrase "new normal" may be wearing thin. But when it comes to the future of work, it's the elephant in the room. For now, at least, it seems workers are not returning to the pre-pandemic model anytime soon.  
At the end of 2022, according to Deloitte's Global State of the Consumer Tracker, nearly 50% of employed Americans could do their jobs remotely. The survey also showed that despite cries to come back to the office, workers stayed home an average of 3.2 days per week. There was also a 5% year-over-year increase in the days employees said they would like to stay home.  
That may explain, in part, why the demand for travel remains high. Before the pandemic, the concept of combining business and leisure travel (I.e. bleisure travel) was on the rise. According to Expedia's Traveler Value Index for 2022, 56% of workers who worked remotely planned to engage in bleisure travel.  
And most of these trips can last 6 days or more. That makes a compelling argument for buying a timeshare. Because the research also shows that 43% of bleisure trips are built around conferences and conventions which are likely to have properties owned by Bluegreen Vacations. 
Guidance is Cautious 
As is the case with most stocks in 2023, Bluegreen Vacation Holdings is hedging any optimism about its outlook for 2023. In delivering the company's earnings, chairman and chief executive officer, Alan B. Levan, said, "... However, we cannot predict the future impact of general economic conditions, including higher interest rates, inflationary trends, and labor availability, on our operations." 
To support that statement, investors have to consider the 17% YOY increase in sales and marketing expenses and the 14% decline in the number of vacation packages sold.  
BVH Stock is One for the Watchlist 
Bluegreen Vacation posted full-year revenue of $919.5 million in 2022. That was slightly lower than the $961.71 million the company posted in 2019, the last year before the pandemic. But in terms of profit, the $3.49 it posted for all of 2022 was significantly higher than the $1 it posted in 2019. 
And earnings growth is likely to continue. According to MarketBeat, the average analyst forecast for 2023 earnings is $3.83. In a year where analysts expect an earnings recession, a 10% gain is hard to overlook. 
But it's also hard to overlook the overall outlook for the economy, which continues to look to be fragile, at best. Although inflation is stabilizing, it's not likely to move down meaningfully in 2023. Robust employment numbers are the last leg of the stool. But it may be the unemployed, ironically, keeping the demand for travel up. At least one theory suggests that laid off tech workers are taking trips before looking for their next job.  
If that's the case, the numbers for Bluegreen Vacations may soften. BVH stock has plenty of upside and trading at 7.4x earnings it does look attractive. But with so much economic uncertainty, you may want to keep it on your watchlist.