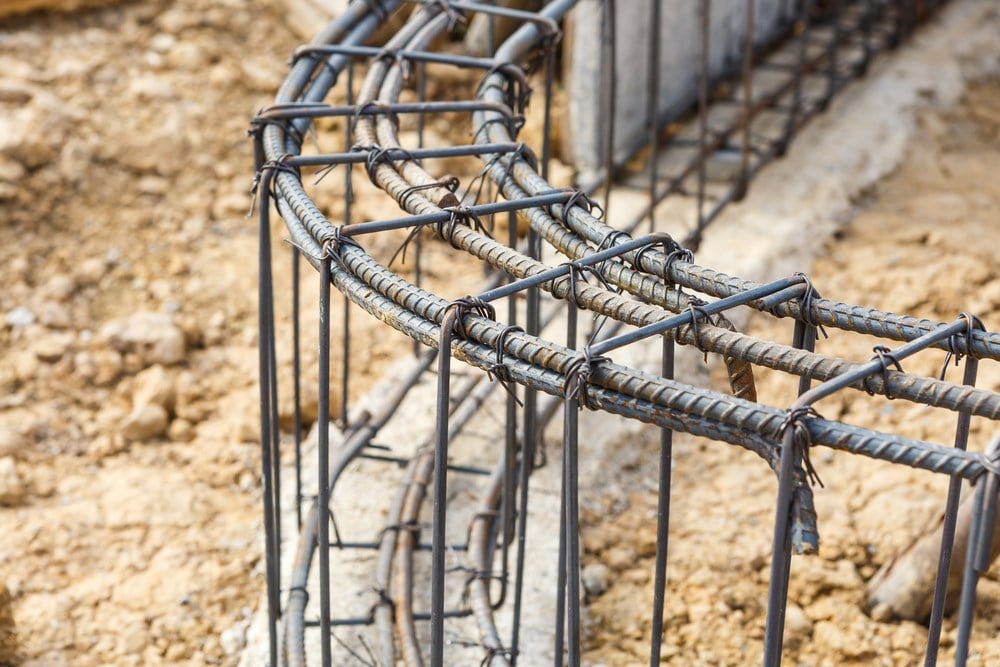 Vertically integrated steel and metal products manufacturer Commercial Metals Co. (NYSE: CMC) benefits from the infrastructure spending tailwinds. Commercial Metals operates four divisions under its roof. Its America's Recycling division collects and recycles scrap metal. Its Americas Mills produces steel reinforcement products like rebars, wire rods and merchant bars.
Rebar is short for reinforcing bar, a steel bar for reinforcing concrete. Its Americas Fabrication division makes steel products for construction and infrastructure projects. Its International Mill produces steel products in Europe.
The company competes with steel makers Nucor Co. (NYSE: NUE), Steel Dynamics Inc. (NASDAQ: STLD) and ArcelorMittal S.A. (NYSE: MT).
Arizona 2 New Mill
Commercial Metals has made solid progress in commissioning its Arizona 2 project, with operations starting just in time to capitalize on the construction boost. As an industry first, Arizona 2 is the first and only micro mill in the world that can produce rebar and merchant bars continuously.
It expects the new mill to produce nearly 400,000 tons in fiscal 2024, with output reaching full-run rate by the end of the year. At full run rate, Arizona 2 can produce 350,000 tons of rebar and 150,000 tons of merchant bar annually. Arizona 2 is expected to reach EBITDA breakeven in Q1 2024 and improve as production increases. The company expects to add $70 to $80 million to its sustainable through-the-cycle EBITDA.
Infrastructure and Commercial Spending Accelerates
Federal infrastructure spending continues to grow. The Infrastructure and Jobs Act and the Inflation Reduction Act accelerate construction activity. The company has stated that infrastructure projects require up to six times more rebar than residential and commercial buildings.
The order book for Commercial Metals grew 20% over the same period last year. The company has noticed a 30% increase in downstream bidding activity driven by secular demand for facilities, warehouses and data centers. Falling energy and gas costs are also driving improved margins for steel makers.
Durable Growth
On June 22, 2023, Commercial Metals released its fiscal third-quarter 2023 results for the quarter ending May 2023. The company reported an adjusted earnings-per-share of $2.02, excluding non-recurring items, versus consensus analyst estimates of $1.84, beating estimates by $0.18. Net earnings were $234 million or $1.98 per diluted share.
Revenues fell (6.8%) year-over-year (YOY) to $2.35 billion, beating analyst estimates of $2.32 billion. Q3 2023 was one of the strongest quarters in its 108-year history, driven by strength in North America. Its North American segment has had ten consecutive quarters of YoY EBITDA growth.
CEO Insights
Commercial Metals CEO Barbara R. Smith commented, "During the third quarter, North American segment volumes were supported by significant structural trends, including the re-shoring of manufacturing and logistical supply chains and increasing investment to improve the condition and functionality of our nation's core infrastructure and energy markets.
We expect increased activity in these rebar-intensive construction sectors will continue to drive demand in the quarters and years ahead." She expects Q4 2023 to remain strong and consistent with Q3 2023. Finished steel products are expected to keep the same margin levels in North America. Europe remains to have economic uncertainty.
Tensar Stabilizing Soil and Growth
Commercial Metals celebrates the first anniversary of its acquisition of Tensar, a geosynthetics manufacturer. Tensar provides engineered ground and soil stabilization solutions, which complements Commercial Metal's concrete reinforcing products. The company makes geogrids and geocells that reinforce soil to improve its stability and strength.
They are used in infrastructure projects like road construction, embankments and retaining walls. Its geotextiles stabilize soil to prevent erosion while improving drainage, which is essential for drainage systems, landfills and erosion control. Tensar successfully launched its newest geogrid design, InterAx. Tensar has generated $61 million of EBITDA since its acquisition.
Commercial Metals Co. analyst ratings and price targets are at MarketBeat.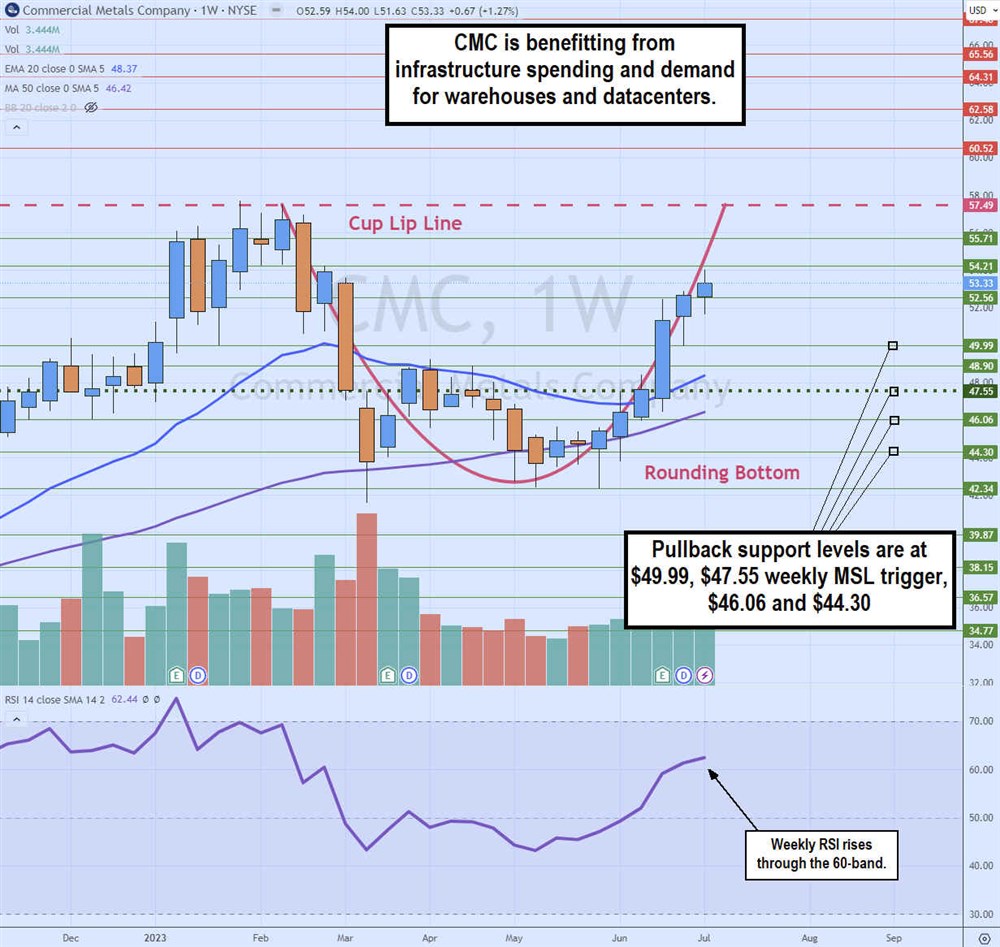 The definitive beginner's guide to reading stock charts can be found free on Marketbeat.                                                                      
Weekly Rounding Bottom to Cup
The weekly candlestick chart on CMC illustrates a formation of a cup as the rounding bottom completes. The cup lip line started to form after peaking at $57.49 in February 2023. CMC fell to a low of $41.56 in March 2023. It remained below the $47.55 weekly market structure low (MSL) buy trigger through June 2023 as a rounding bottom took shape.
The weekly MSL breakout launched shares higher for six consecutive weeks as shares reached the cup lip line. The weekly RSI has bounced to the 62-band. Pullback support levels are $49.99, $47.55 weekly MSL trigger, $46.06 and $44.30.