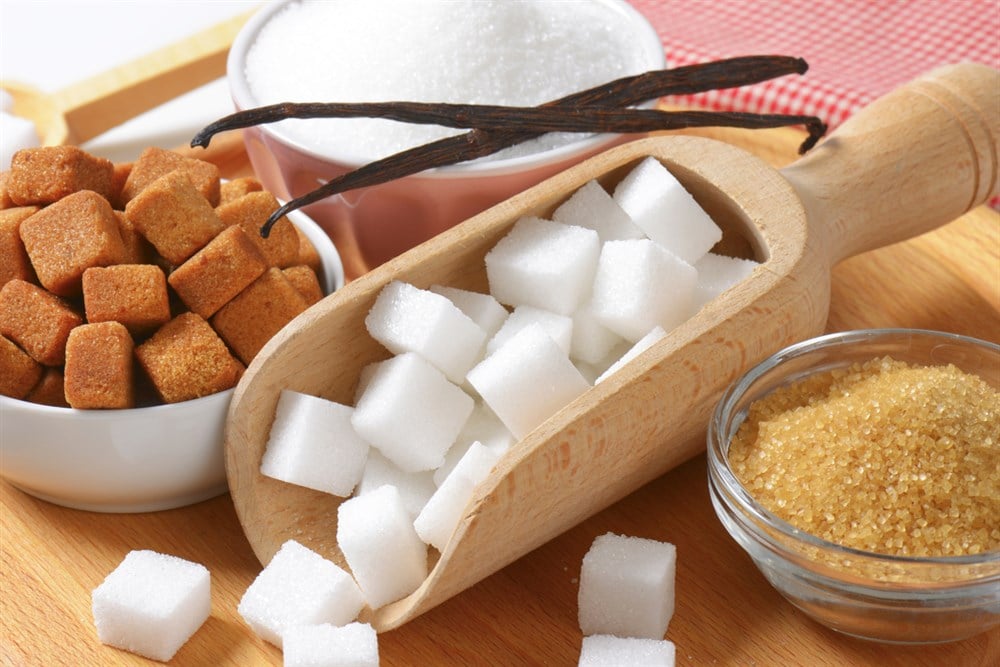 One of the most important crops in the world, sugar is one of the most critical exports produced by countries like Brazil, Thailand and India. 
Currently, the world demands more than 180 million metric tons of sugar annually, both by individual shoppers and corporations that require massive amounts of sugar to create their products. A consumer staple in perpetual demand, investors now have the option to add sugar stocks to their portfolios. But which sugar companies are worth the investment now?
Choosing the right sugar stock comes down to individual preferences for risk and international diversification. Read on to learn more about how to invest in sugar stocks, some of the best sugar stocks and a few more details on some key factors to look for when choosing investments. 
Sugar Stocks: An Overview
Sugar as we know it is a processed form of sugarcane, a tall, tropical crop primarily grown in warm regions like South America and Southeastern Asia. Sugar is one of the most important global products in the world, with production and processing making up about 22% of the economic output of Brazil. Global sugar consumption should grow around 1.4% annually, reaching an expected annual demand of 196 million metric tons in 2030. 
Sugar production heavily depends on weather conditions and agricultural practices, making it vulnerable to crop yields and fluctuations in supply. Changes in climate patterns, natural disasters and diseases can impact sugar production and prices. Sugar is a globally traded commodity, and international trade policies, import-export regulations and changes in demand from major consuming countries can influence its prices. Consider keeping up with domestic and international tariff and tax news, especially in areas where sugarcane is grown. 
Features to Look for in Sugar Stocks
When selecting sugar stocks to add to your portfolio, consider the following major features and characteristics. 
Type of Stock 
When it comes to selecting sugar stocks, there are three major options we'll cover:
Agricultural companies:

Agricultural companies are involved in directly producing, manufacturing or processing sugar. The world's largest agricultural companies dealing in sugar production are outside the United States. 

Consumer goods companies:

Many consumer goods companies can be classified as sugar stocks because they rely on sugar as a primary product ingredient. Changes in sugar prices can influence these stocks, as sugar shortages can cause problems in the overall supply chain. 

Sugar ETFs:

Exchange-traded funds (ETFs) are "bundles" of stocks that trade together as a single unit and follow a common theme. Sugar ETFs might invest in futures contracts for sugar or agricultural projects that produce or refine sugar. 
Adding multiple types of sugar stocks to your portfolio will result in more balanced risk across the agricultural sector. 
Geographic Presence 
Emerging markets have proven to be an opportunity for products with high sugar content. Companies operating or exploring these markets could show more future potential for growth. Additionally, companies operating in multiple countries may have an advantage in accessing diverse markets and mitigating risks associated with localized events, such as adverse weather or political instability.
Diverse Operations 
Some sugar companies add value to their primary products, such as refining raw sugar into specialty sugars or producing ethanol from sugar byproducts. Value-added products often command higher prices and improve profit margins, making them more stable long-term investments. 
10 Best Sugar Stocks to Buy Now
Now that you understand how to buy sugar stocks and what to look for in each stock, let's look at the top sugar stocks in today's changing stock market. 
1. Cosan S.A. 
Cosan S.A. (NYSE: CZZ) is a Brazil-based multinational conglomerate with a diverse range of operations, including sugar and ethanol production, fuel distribution, natural gas pipelines and logistics. One of the largest sugar producers in the world, Cosan is a major component of Brazil's economy. In July 2023, the company boasted a total market capitalization of $6.39 billion. 
Cosan is known for its sugar and ethanol business, which internally integrates cultivation of sugarcane, sugar milling, refining and ethanol production. It benefits from Brazil's favorable climate for sugarcane cultivation and is a major exporter of sugar and ethanol products. This international presence and domestic dominance can make it an appealing choice for investors looking to add non-U.S. assets to diversify their accounts. 
2. Bunge Limited
While you can invest in sugar most directly with stocks like Cosan, agricultural companies can add a wider breadth of exposure to international crop sales. Bunge Limited (NYSE: BG) is a leading global agribusiness and food company that operates in various segments, including sugar. 
Unlike Cosan, Bunge Limited is not primarily known for its sugar operations; its primary product is consumer oils. While raw and refined sugar makes up a relatively small percentage of Bunge's overall portfolio, it can provide a more diverse choice for conservative-leaning investors.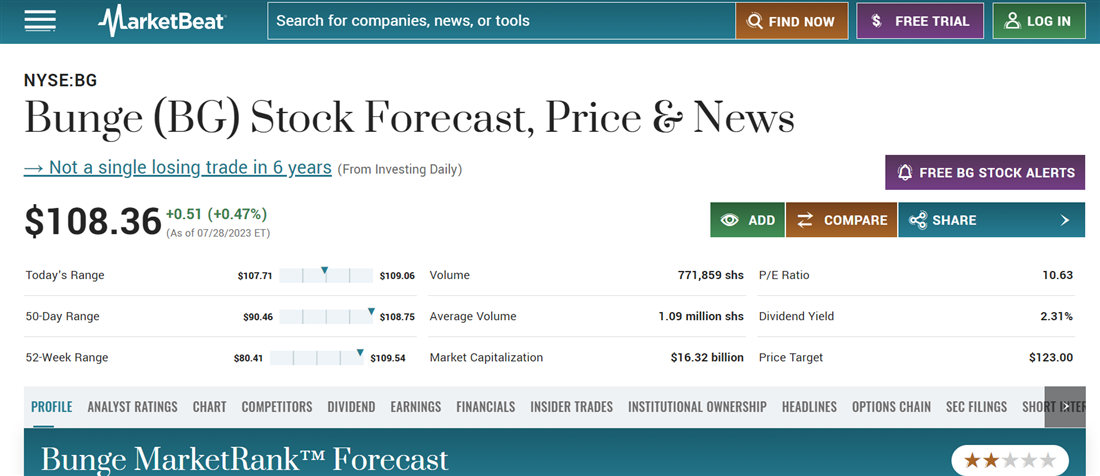 Image text: Bunge Limited is a more diverse choice for sugar investors. 
3. The Hershey Company
If you're an American, chances are you have a favorite product produced by The Hershey Company (NYSE: HSY). Hershey's is one of the world's largest manufacturers of chocolate and confectionery products and is best known for its chocolate-based candy bars and other consumer products. 
While not primarily a sugar producer, almost all of Hershey's products use or contain sugar in some capacity. Direct communication with sugar producers can help Hershey streamline its supply chain, providing more insight into changing consumer trends. 

Image text: With a total market capitalization of more than $48 billion, Hershey's is a blue-chip consumer product option for investors. 
4. Tootsie Roll Industries 
Another option for American consumer discretionary investors, Tootsie Roll Industries (NYSE: TR) is best known for its eponymous line of Tootsie Roll products. However, the company's offerings go far beyond the chocolate-flavored taffy, with companies like Junior Mints and DOTS complementing its confectionary umbrella. In July 2023, Tootsie Roll Industries boasted a total market capitalization of $2.38 billion, making it a more affordable choice when compared to Hershey's.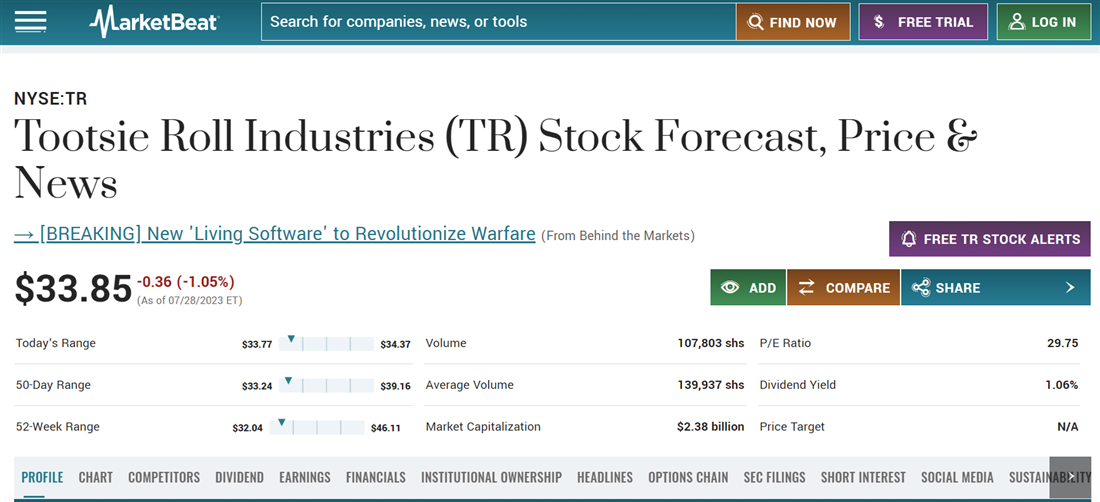 Image text: Tootsie Roll Industries' July 2023 share price was a little under $35, making it more affordable than Hershey's. 
5. Teucrium Sugar Fund
In addition to investing in sugar stocks on the level of individual companies, you can also invest in a sugar futures ETF like the Teucrium Sugar Fund (NYSE: CANE). As a sugar-focused ETF, CANE does not invest directly in sugar, sugar-producing companies or companies that use sugar, like the Tootsie Roll Company. Instead, it holds futures contracts of sugar, allowing investors to gain exposure to the price movements of sugar without directly dealing with physical commodities. Investing in the Teucrium Sugar Fund can be an excellent place for beginner investors to learn more about the futures market without taking on the risk of investing directly and identify cane stock prices for your preferred range.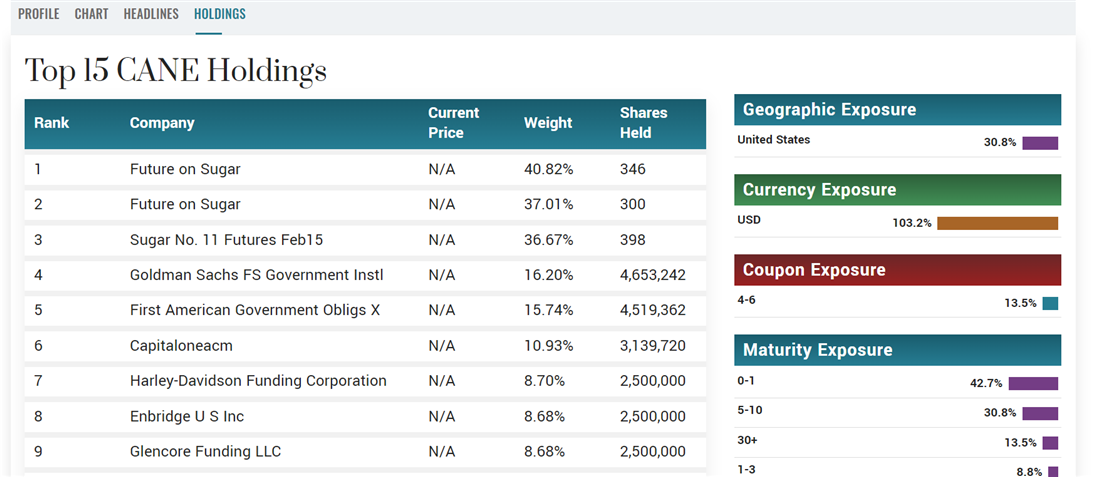 Image text: Futures contracts on sugar are the primary holdings in the CANE ETF. 
6. Adecoagro
Another pick for agricultural investors, Adecoagro S.A. (NYSE: ARGO), is a general competitor of Cosan S.A., with operations in many of the same sectors. Also like Cosan S.A., Adecoagro divides its business between energy and agricultural sectors, with a significant portion of operations devoted to sugar and ethanol production. The company also operates cogeneration plants that produce electricity from biomass, a byproduct of sugar and ethanol processing, making it an excellent option to intersect sugar and energy company investments. 
7. PepsiCo Inc.
While not a sugar company stock directly, PepsiCo Inc. (NASDAQ: PEP) is another option for investors looking to keep their domestic investments while capitalizing on public sugar consumption. Like Hershey's and the Tootsie Roll Company, PepsiCo requires large amounts of processed sugar to produce its namesake soft drinks. While the company has been expanding its portfolio to include healthier options and low-calorie beverages, traditional sugary drinks remain a significant part of its business. In July 2023, PepsiCo Inc. had a total market capitalization of $261 billion, making it a blue-chip pick for sugar investors. 
8. Mondelez International
Chicago-based Mondelez International (NASDAQ: MDLZ) is a global food and beverage company with a diverse portfolio of popular brands, including famous names like Sour Patch Kids and Oreo. Mondelez International was formerly known as "Kraft Inc." before 2012, when a corporate split into Mondelez International and the Kraft Foods Group Inc. Today, Mondelez International maintains a total market capitalization of more than $102 billion and can be another top choice for sugar investors looking for sugar companies in the U.S.  
9. Invesco DB Agriculture Fund 
Investors looking to diversify their agricultural holdings may consider investing in the Invesco DB Agriculture Fund (NYSE: DBA). Structured as an ETF like CANE, this fund seeks to track the performance of the DBIQ Diversified Agriculture Index Excess Return. The index reflects the performance of a diversified basket of agricultural commodities, including sugar. In July of 2023, about 8.5% of the fund's assets were held in sugar futures, which rely on global sugar prices and demand changes. 
10. iShares MSCI Global Agriculture Producers ETF
Our last choice is another agricultural ETF, the iShares MSCI Global Agriculture Producers ETF (NYSE: VEGI) is another highly diversified agricultural fund. While its primary investment holdings comprise U.S.-based agricultural stocks, it also invests in companies involved in sugar production and refining. Some of the ETF's top holdings in July of 2023 include Deere & Company (NYSE: DE), Corteva (NYSE: CTVA) and Archer-Daniels-Midland (NYSE: ADM).
Should You Invest in Sugar Stocks?
Sugar enters almost every food consumer category, mainly processed foods and confectioneries. It's easy to see why investors would want to take advantage of the increasing demand for sugar. However, it's important to remember that most major sugar production stocks are associated with international assets. Stay up-to-date on international news and track how changing economic and political climates influence sugar demand and production.  
FAQs
Interested in searching for more of the best sugar stocks and the sugar companies in USA and abroad? The following are some last-minute answers to questions about investing in sugar. 
Which is the best sugar stock?
No single stock can be named the "best" sugar stock because the best stock for your needs might vary depending on individual circumstances. For example, if you're a higher-value investor looking for blue-chip sugar companies, The Hershey Company could be the best sugar stock due to its high market capitalization. If you're looking for stocks with more growth potential, international options like Cosan S.A. could be better options. 
Can I invest in sugar?
Yes, as an investor, you can gain exposure to the sugar market in multiple ways. You can invest in sugar-related stocks of companies engaged in sugar production, and you can also invest in sugar or agricultural ETFs for more diverse market exposure. 
What is the largest sugar company?
Südzucker AG is a German company and the largest sugar producer in the world. In July 2023, it had a total market capitalization of more than $3 billion, with an annual production of around 4.8 million tons of sugar.