Lori Lane of New Homes Division at Berkshire Hathaway HomeServices GA Properties reveals Trilith: a vibrant, innovative community reshaping urban living in Southern Atlanta.
Atlanta, GA, United States - September 29, 2023 —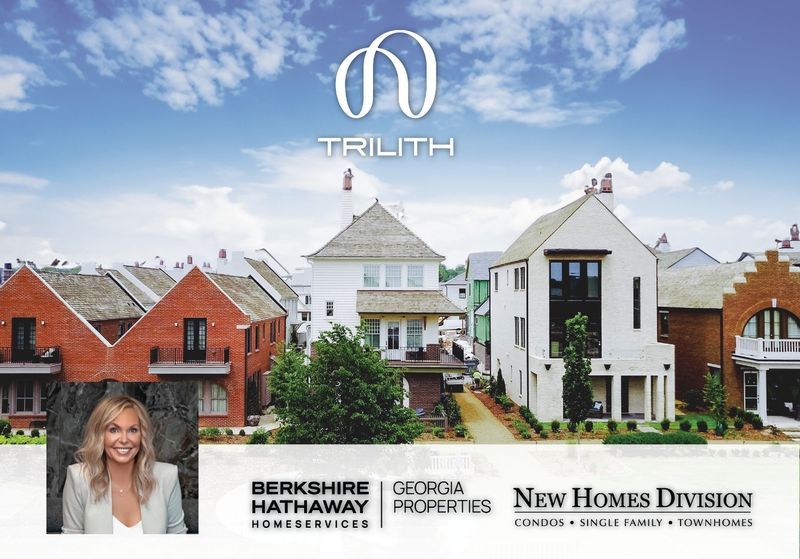 Discover the transformative essence of Trilith, a flourishing nucleus of ingenuity and artistic brilliance located in the vibrant heart of Southern Atlanta. This revelation comes courtesy of Lori Lane, President of the New Homes Division at Berkshire Hathaway HomeServices Georgia Properties, who not only oversees and directs sales endeavors for Trilith but also intimately knows the allure of Trilith, being a homeowner and a frequent weekend visitor herself. Lane escapes to her second home in Trilith to bask in the unique charm of the town, indulge in its diverse culinary scene, and immerse herself in the myriad of enriching experiences that the community offers. In sharing her experiences and insights, Lane paints a vivid portrayal of Trilith's pioneering spirit and its potential to reshape urban living through its synthesis of sustainability, walkability, and vibrant community life. Journey with us through Lori Lane's eyes and explore the diverse and harmonious world of Trilith, where makers live, create, and inspire, establishing a new paradigm for holistic living just a breath away from Hollywood in the Atlanta suburbs.
Exploring Trilith: A Blend of Creativity and Community
Nestled just south of Atlanta, Trilith emerges as a beacon of unparalleled urban living, seamlessly connecting to major interstates and a mere stone's throw from the Hartsfield-Jackson Atlanta International Airport. Directly opposite the illustrious Trilith Studios—America's largest film studio—this 235-acre marvel unfolds as a masterful town that blends residential and mixed-use spaces, epitomizing the essence of new urbanism. 
Trilith Studios: An Expansive Canvas
Trilith Studios' continuous growth is a testament to its visionary ethos. With its fifth phase underway, the sprawling 740-acre complex boasts an impressive array of 32 soundstages. This expansion, powered by Georgia's film tax credits, encompasses the ambitious "Trilith South," promising an even larger canvas for cinematic excellence.
Unveiling Trilith: A Creative Nexus
At the helm of Trilith, a narrative unfolds that extends far beyond the confines of traditional filmmaking. Trilith is more than a studio; it is a living experiment, a harmonious fusion of rural tranquility and urban vibrancy. Fueled by its commitment to sustainability and innovation, Trilith beckons creative families from diverse backgrounds to partake in a reimagined suburban experience.
Where Dreams Reside: Town at Trilith
Embracing the European charm of its architecture, the Town at Trilith welcomes approximately 1,000 residents to call its unique homes and apartments their own. Rooted in the principles of walkability and diversity, the town's upcoming housing phase aims to cultivate an even richer tapestry of themes and interconnectedness. The varied home prices foster a sense of inclusivity, while the vibrant commercial core offers a symphony of gastronomic delights, boutiques, and a thoughtfully designed hotel.
The Creative Heartbeat: Where Innovation Meets Artistry
Trilith's creative hub pulsates with attractions that transcend convention. The mesmerizing art exhibits, an LED screen that weaves narratives into the fabric of daily life, and murals by the illustrious artist Brandon Sadler stand as testaments to Trilith's commitment to marrying creativity and functionality. The K-12 micro campus, aptly named Forest School, is a haven for families seeking to immerse themselves in the realms of arts and technology.
Unveiling the Spectacle: Trilith LIVE
As anticipation builds for the upcoming Trilith LIVE project, an unparalleled entertainment experience on par with the grandeur of Las Vegas is on the horizon. Trilith continues to push boundaries, bringing to life a dynamic fusion of imagination, technology, and spectacle.
Innovative Living
Diversity reigns supreme within Trilith's housing options. Innovation knows no bounds-from charming micro villages to avant-garde designs like the whimsical "treehouses," to solar and battery powered homes, estate homes, and so much more. Notably, Trilith's commitment to sustainability shines through its geothermal-powered homes, forming the largest geothermal community in the nation.
Embracing Serenity: Pathways and Reflections
Trilith's allure is further amplified by its serene beauty and the accessibility of its 19 parks & 15-miles of pathways. Amid the creative buzz, moments of introspection are easily found, allowing visitors to connect with both their surroundings and their own inner musings. Meticulously planned communal spaces and a nightlife brimming with vibrancy add layers of dimension to the town's character.  Lane often frequents the renowned ENZO steakhouse and Sensu Sushi among other dining experiences that transcends expectations.   
A Tranquil Encore
Our sojourn through Trilith concludes with a profound sense of tranquility.  The creative energy, harmonious community dynamics, and innovative sustainability intertwines to create an experience that lingers in the soul, a testament to the boundless potential of human imagination and collaboration.
This is just a snapshot of the remarkable journey that awaits you at Trilith. Every corner of this evolving landscape holds stories yet to be told, experiences yet to be savored, and a future yet to be shaped. Visit the sales center and witness firsthand the myriad of possibilities and unique living opportunities that Trilith holds. 
About New Homes Division of Berkshire Hathaway HomeServices Georgia Properties
The New Homes Division of Berkshire Hathaway HomeServices Georgia Properties represents esteemed builders and developers within the Greater Atlanta area. Led by Lori Lane, President of the New Homes Division, and supported by a globally respected brand, this division stands as a beacon of excellence. Lori Lane also serves as the Managing Broker, overseeing on-site sales and marketing efforts for each community. Throughout the years, Lane and her team have devised award-winning strategies for marketing and selling new constructions, earning numerous accolades that recognize their exceptional contributions to home building, marketing, and personal achievement.
About Lori Lane - Powerhouse in New Home Construction
Lori Lane, at the helm of Georgia Properties New Homes Division, has earned acclaim for crafting a highly successful division that holds sway as a powerhouse in the new home construction industry. Lori's leadership spotlights her representation of distinguished builders and developers in the Greater Atlanta region.
Contact Info:
Name: Berkshire Hathaway HomeServices GA Properties
Email: Send Email
Organization: New Homes Division - Lori Lane of Berkshire Hathaway HomeServices GA Properties
Address: 100 Mansell Court East Suite 115, Roswell, Georgia 30076
Phone: (678) 352-3314
Website: https://newhomesdivisionga.com

Release ID: 89108935
In case of encountering any inaccuracies, problems, or queries arising from the content shared in this press release that necessitate action, or if you require assistance with a press release takedown, we urge you to notify us at error@releasecontact.com. Our responsive team will be readily available to promptly address your concerns within 8 hours, resolving any identified issues diligently or guiding you through the necessary steps for removal. The provision of accurate and dependable information is our primary focus.