--News Direct--
Cerro de Pasco Resources executive chairman Steven Zadka joins Proactive's Natalie Stoberman from to share the latest development updates from the company's Quiulacocha Tailings Reprocessing Project and Santander mining operation in Peru.
Cerro de Pasco Resources is a mining and resource management company with unparalleled knowledge of the mineral endowment in the city of Cerro de Pasco and its surroundings.
The company plans to unlock the useful life of the mine and extend the concession areas in its Santander mining operation, applying the highest safety, environmental, social and governance standards. Its Quiulacocha Tailings Reprocessing Project has recently been listed to the 2023 Ministry of Economy and Finance Specialized Projects List which intends to fast-track the project's development and construction in Peru.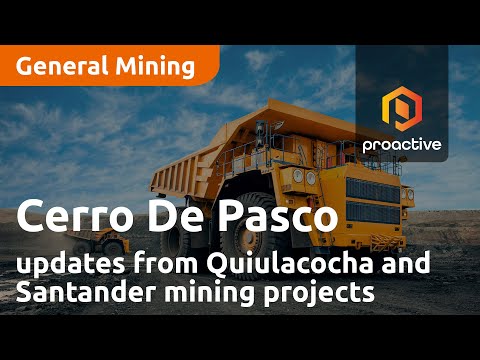 Contact Details
Proactive Canada
+1 604-688-8158
na-editorial@proactiveinvestors.com
View source version on newsdirect.com: https://newsdirect.com/news/cerro-de-pasco-resources-shares-latest-updates-from-quiulacocha-and-santander-mining-projects-258376560