Today's list of hot stocks to watch features an upscale department store chain hiking its dividend 25%, a small-cap biotech collaborating with a global pharmaceutical giant, and a penny stock engaged in wearable technology for babies that is surging some 50%.
Take a look at these 12 hot stocks to watch today, and find out what's making them move.
12 Hot Stocks to Watch Today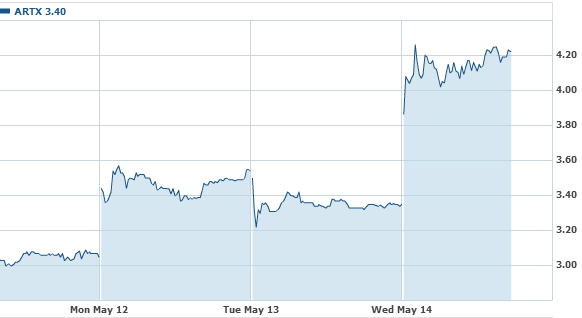 Arotex Corp. (Nasdaq: ARTX) starts off our list of today's hot stocks. Shares surged nearly 25% to $4.29 after the defense and security products company reported robust Q1 2014 earnings. ARTX earned $0.05 per share, or $1 million, up from earnings per share (EPS) of $0.03 on revenue of $616,000 in the same quarter a year ago. Revenue rose to $22.4 million, up from $22.1 million in Q1 of 2013. Estimates were for EPS of $0.01 on revenue of $21.3 million.
Boeing Company (NYSE: BA) shares ticked up a couple of cents to $133.97 after a new Chinese airline ordered 50 Boeing 737s. The total value of the order from the new subsidiary Chain's Juneyao Airlines is estimated at $3.8 to $5.5 billion.
Celledex Therapeutics Inc. (Nasdaq: CLDX) shares soared nearly 30% to $15.93 after reporting that it's teamed up with Bristol Myers Squibb Co. (NYSE: BMY). The duo will combine their experimental cancer immunotherapies efforts aimed at treating tumor types including non-small-cell lung cancer, melanoma, ovarian, colon, and head-and-neck cancer.
Cisco Systems Inc. (Nasdaq: CSCO) shares ticked up 0.35% to $22.94 in afternoon trading. The IT company is scheduled to report fiscal Q3 2014 earnings after the close. Expectations are for EPS of $0.48, down from $0.51 in the same quarter a year ago. Revenue is expected to slip 7% to $11.38 billion. Still, Cantor Fitzgerald analyst Brian White, who has a "Buy" on the stock and a $27 price target, remains optimistic. "After experiencing a few difficult quarters in a row due to weakness in emerging markets, softness at service providers, muted IT spending and the impact of new product transitions without the associates sales, our model suggests that Cisco's profit cycle bottomed out in 3Q FY14 (April), and we expect major new platform initiatives to begin contributing more meaningfully to revenue over the next couple of quarters."
Kate Spade & Co (NYSE: KATE) shares rose more than 10% to $38 intraday on strong Q1 sales of its core Kate Spade brand. Formed in February when Fifth & Pacific Co. and Liz Claiborne were combined to create Kate Spade, KATE posted profit of $46.2 million, or $0.37 per share. That compares to a loss of $52.2 million, or $0.44 a share, a year earlier. Analysts were looking for a $0.04 per share loss. Driving the gussied-up quarter was a 54% increase to $217 million in the Kate Spade line. That was comfortably ahead of the $202 million projected by analysts.
LoJack Corp. (Nasdaq: LOJN) shares rose 20% to $5.46 intraday on brisk volume. The Canton, Mass.-based technology tracking company announced an arbitration panel has dismissed all claims filed against LoJack by Tracker do Brazil LTDA, the exclusive licensee of the LoJack Stolen Vehicle Recovery technology in Brazil. The arbitration panel next decides how much LoJack will receive in an award of damages. "This decision is a significant legal victory for LoJack and its shareholders," LoJack CEO Randy Ortiz said in a statement. He added the ruling demonstrates Trackers' claims were "without merit."
Macy's Inc. (NYSE: M) shares moved up nearly 1% to $58.88 after beating earnings estimates by a penny. The department store chain earned $225 million, or $0.60 per share in Q1 2014. That was up from $217 million, or $0.55 per share, a year earlier. Revenue slipped 1.7% to $6.28 billion. Analysts expected EPS of $0.59 on revenue of $6.46 billion. Like scores of retailers, Macy's was hurt by the harsh winter weather that blanketed much of the country. The New York-based retailer, however, gave rosy guidance and hiked its dividend 25% to $0.3125 a share for a yield near 2.3%. "The fundamentals of our business and our ongoing strategies remain strong," said Chief Executive Officer Terry Lundgren in a statement. "This, combined with the momentum we have built over the past five years, leads us to feel confident about the company's prospects."
Mylan Inc. (Nasdaq: MYL) shares rose more than 1% to $48.19 after launching Olanzapine, the generic version of Eli Lily and Co.'s (NYSE: ELI) Zyprexa. Both drugs are used to treat schizophrenia, or the acute treatment of manic or mixed episodes associated with bipolar I disorders. The schizophrenia drug market is a $6.5 billion industry, according to industry expert Fierce Pharma. Mylan, the third largest generic and specialty pharmaceutical company in the world, now gets a piece of that market.
Pernix Therapeutics Holding Inc. (NYSE: PTX) surged more than 35% to a 52-week high of $6.10 intraday. Volume was extremely heavy, with 5 million shares changing hands by midday, compared to the stock's average daily volume of 328,000 shares. Sending shares soaring was news Pernix has acquired the U.S. rights to Treximet from GlaxoSimthKline Plc (NYSE ADR: GSX) for $17 million. Treximet, used to treat acute migraine attacks in adults, booked net sales of $78.7 million in FY2013. Pernix said the transaction will immediately add revenues and earnings.
Summer Infant Inc. (Nasdaq: SUMR) shares rose nearly 50% to $2.65 thanks to a bullish upgrade from Roth Capital. The investment firm raised its rating on shares of the Rhode Island-based company to "Buy" from "Neutral." The designer and distributor of branded juvenile health, safety, and wellness products (wearable tech devices for babies) in North America and the United States posted solid Q1 earnings Tuesday after the close. Net revenue rose to $50.8 million in Q1 2014, up from $44.7 million in the prior quarter. Net sales rose to 32.4%, up from 31.4% in the first quarter a year ago. CEO Carol Bramson told shareholders the company is committed to remaining innovative and growing profits.
Western Digital Corp. (Nasdaq: WDC) jumped more than 4% to $86.36 intraday after Barclays boosted the disc drive maker to "Overweight" from "Equal Weight" with a $98 price target (a 16% upside from the stock's current price). Barclays cited increased cash return and approval from China's Ministry of Commerce allowing WDC to fully integrate two subsidiaries for the upgrade.
Top Investing News Today: This 13th century tool can make you serious money today...
Tags:
best stocks 2014
,
best stocks to buy
,
best stocks to buy 2014
,
best stocks to buy now
,
best stocks to buy right now
,
best stocks to buy today
,
best stocks to invest in
,
best stocks today
,
Hot Stocks
,
hot stocks 2014
,
hot stocks to watch
,
hot stocks today
,
stock to buy
,
Stocks to Buy
,
stocks to buy 2014
,
Stocks to Buy Now
,
stocks to buy today
,
stocks to invest in
,
stocks to watch
,
stocks to watch 2014
,
stocks to watch today
,
top stocks
The post Hot Stocks to Watch Today: BA, CSCO, M, and 9 More on the Move appeared first on Money Morning - Only the News You Can Profit From.