A non-pharmacological breakthrough to overcoming anxiety utilizing special sunglasses that enhance the brain's functioning.
Hastings on Hudson, NY - December 6, 2016 - (
Newswire.com
)
In this age of relentlessly high anxiety, there's now a reason to be hopeful.  A special kind of sunglasses, from NeuView incorporated, may offer the way to a less anxious life.
​Robert Buck, the psychotherapist who developed and patented the sunglasses believes that they represent a breakthrough approach to overcoming anxiety and worry.  "Anxiety doesn't have to be your default setting.  NeuView Glasses are the science based, self-help tool that can quickly help you get a handle on your emotions," says Buck.
​Based upon research conducted by a leading neuro-researcher at Harvard Medical School, the glasses are uniquely designed to optimize the brain's inter-hemispheric communication.  According to Buck, "When our brain's hemispheres are working in synch we experience our world most accurately and are able to respond most appropriately."  He goes on to point out, however, that stress and trauma can disrupt the brain's ability to communicate internally leaving one cut off from helpful information needed but just can't access.  The greater the stress; the more the disruption.
​The NeuView Glasses, by virtue of their unique design, can directly increase the neuronal activity in either hemisphere, at will.  The glasses have side sections that can be raised to allow more light in from the periphery.  It is this additional light, and the manner in which it hits the eye's retina, that causes the increased neuronal activity in the hemisphere opposite the light source.  For example,raise the right-side window and the left brain is stimulated.  It is this increased neuronal activity that makes it more possible for the brain's hemisphere's to be more connected.  "The more connected the better," according to Buck.
​Thinking about all that they can accomplish, one might believe that these glasses must look pretty nerdy.  Think again.  NeuView Glasses don't look at all unusual.  In fact, they are hardly distinguishable from a pair of sporty wraparound sunglasses.​
​Buck likes to note, "These are not just your sunny day shades - they're also your 'mood shifters' that can really bring the sunshine back into your life."
​Contact:
Robert Buck
914 478 4200​
email - rbuck@neuviewglasses.com
​​Website - www.neuviewglasses.com
Related Images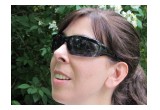 Press Release Service by
Newswire.com
Original Source:
Now, a Whole New View About Managing Anxiety - Special Sunglasses