Will China Follow the U.S. Fed by Buying Risky Debt?
May 19, 2020 at 10:47 AM EDT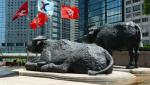 Last week, the U.S. Federal Reserve initiated their bond-buying spree, which includes more risky debt issues in the high yield bond markets. In the meantime, while China is in the midst of its own economic recovery following the pandemic, it too can mull over whether it should follow the U.S. Fed's...