Should Municipal Bond ETF Holders Be Wary?
June 25, 2020 at 14:03 PM EDT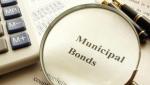 While Treasurys prices have been consolidating after a massive run higher over the last year, experts are concerned about how municipal bonds and consequently muni bond ETFs may fare in the wake of a newly burgeoning coronavirus pandemic in the U.S. The effects of the coronavirus pandemic have...