Could Impossible Sausage Spark Vegan ETF Interest?
June 29, 2020 at 14:53 PM EDT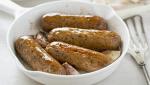 The US Vegan Climate ETF (VEGN) is climbing amid news that privately held company Impossible Foods announced Monday that its meatless sausage will now be for sale to restaurants nationwide. A number of major retail locations in the United States are already selling The Impossible Sausage,...