Could Tesla's Inclusion In The S&P 500 Catapult The Index Higher?
July 13, 2020 at 13:37 PM EDT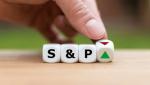 As Tesla stock surged to hit a new all-time high on Monday, increasing the stock's record run, as investors have made CEO Elon Musk the seventh-richest person in the world, surpassing legendary investor Warren Buffett. Given the company's outstanding performance, there is now broadening...