Is This Silver Pullback A Buying Opportunity For ETFs?
July 30, 2020 at 14:34 PM EDT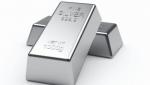 Since peaking this week gold and silver have begun to pull back. Precious metals prices are slipping Thursday, with gold and the SPDR Gold Shares (GLD) trading moderately lower Thursday, while silver prices and the iShares Silver Trust (SLV) are tumbling. Both metals have had a meteoric rise...