Is Covid-19 Putting Municipal Bonds in Jeopardy?
September 08, 2020 at 11:03 AM EDT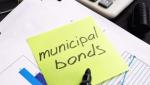 Municipal bonds have long been considered some of the most reliable fixed income options with a low default rate. Enter Covid-19 and a once untouchable space could now be in jeopardy with defaults. "The pandemic is threatening the creditworthiness of many municipal securities long seen as safe...