Precision Vascular, a leader in minimally invasive treatment of vein disease, brings state-of-the-art interventional radiology technology to a new, expanded location in Sherman, Texas. The experts treat vascular conditions including limb loss, varicose veins, chronic venous insufficiency, diabetic vascular issues, peripheral artery disease, and more.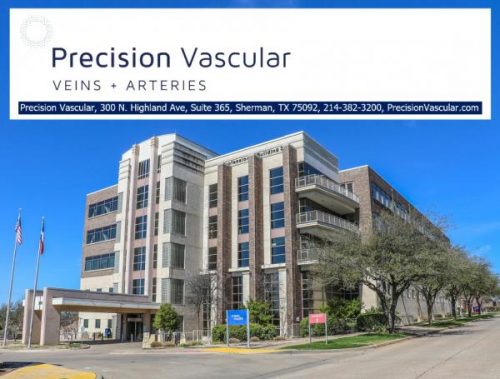 Sherman, United States - September 21, 2021 /PressCable/ —
SHERMAN, TEXAS (September 2021): Precision Vascular, a leader in the diagnosis and treatment of venous and arterial diseases, announces the move of their Sherman, Texas clinic to a new, expanded, state-of-the-art medical office, addressing a critical need for advanced vascular facilities in North Texas. The new Sherman location will enable Precision Vascular specialists to support the growing demand for minimally invasive vein treatments in Grayson County.
New Sherman Vein Clinic
Located at 300 N. Highland Avenue, Suite 365, Sherman, Texas 75092, the 2,200+ square-foot medical office provides all facets of care for venous disease. With an onsite dedicated ultrasound and four procedure/exam rooms, patients will benefit from both office visits and superficial vein treatments in one convenient location. Housed in a five-story medical building, the facility is adjacent to Wilson N. Jones Medical Center and easily reached via Highway 75. Precision Vascular welcomes patients in Grayson County and Southern Oklahoma who need convenient access to advanced vein care.
"We are thrilled that we can expand to help care for more of North Texas," said Dr. Jaryd Stein, board-certified vascular interventional radiologist, and a co-founder of Precision Vascular. "This new clinic will make it easier for patients to access non-surgical procedures that will allow them to get back to their daily activities, without having to suffer further from leg pain and lower-extremity vein issues."
"Our patients in Dallas, Tarrant and Collin counties already benefit from the world-class care provided by our board-certified doctors," said Heather Grizzle, executive director of vascular operations. "With the expanded clinic in Sherman, Texas, patients will no longer need to travel to McKinney for life improving procedures. The new location enables us to treat patients in need of vein care throughout North Texas."
Excellent Outcomes
More than 30 million Americans suffer from vein disease, a medical condition that can lead to serious health problems. An even higher number suffer silently going undiagnosed. Symptoms of vein disease include leg pain, fatigue, itching, burning, swelling, skin discoloration, ulcers/sores, and restless legs.
One in every 20 Americans over the age of 50 have artery disease. Like clogged arteries in the heart, clogged arteries in the legs can increase the risk of having a heart attack or stroke. Symptoms include pain in the legs and/or feet that disturbs sleep, sores or wounds on toes, feet, or legs that heal poorly or not at all, color changes in the skin of the feet, a lower temperature in one leg compared to the other, poor nail growth and decreased hair growth on toes and legs, and fatigue, heaviness, tiredness, cramping in the legs while walking that goes away during rest.
Precision Vascular has received recognition as a leader in the diagnosis and treatment of venous disease for excellence in patient care outcomes. They have a proven track record of patient satisfaction and successful treatment of North Texas residents, demonstrated by a 4.9-star average rating on Google and a 5.0-star average rating on Facebook.
About Vascular Interventional Radiology
Vascular interventional radiologists pioneer treatments on the cutting-edge of medicine, and often help patients avoid archaic surgeries used in the past to treat venous disease. The team of specialists at Precision Vascular create comprehensive vein treatment plans that look beyond cosmetic problems to detect underlying complications. They diagnose and treat venous disease using innovative, minimally invasive procedures with small incisions, less pain, and shorter recovery times. Procedures take place at in-office or outpatient settings. Patients suffering from venous insufficiency, varicose veins, spider veins, diabetic vascular disease, venous ulcers, peripheral artery disease, leg discoloration, restless legs syndrome, and more can benefit from interventional radiology.
About Precision Vascular
Precision Vascular was established in 2012 as the first independent vascular and interventional radiology practice in North Texas. The physicians at Precision Vascular are board-certified diagnostic radiologists with additional fellowship training in vascular and interventional radiology. They focus on minimally invasive procedures and surgeries that are the safest and most efficient options for patients. There are no large incisions, which allows for a reduction in risk, less pain, and shorter recovery time.
"Our promise is to not only expand our care to more of our North Texas community but to continually add the newest and most innovative treatments and techniques for our patients," said Dr. Danny Chan, board-certified vascular interventional radiologist, and a co-founder of Precision Vascular.
Precision Vascular has long been at the forefront of performing leading-edge procedures to treat vein disease—all while providing compassionate patient care. Specialists at Precision Vascular help prevent events that reduce quality of life—-from limb loss, varicose veins, chronic venous insufficiency (CVI), diabetic vascular issues, and peripheral artery disease (PAD/PVD)—to female pelvic pain and male varicoceles.
Currently with five locations—in Addison, Arlington, Mesquite, McKinney, and Sherman, Texas—Precision Vascular physicians are committed to delivering outstanding and safe care with compassion and concern for all patients.
Schedule with Precision Vascular, 300 N. Highland Avenue, Suite 365, Sherman, Texas 75092. To request an appointment or learn more about the practice, visit PrecisionVascular.com or call 214-382-3200.
Contact Info:
Name: Lauren Gunderson
Email: Send Email
Organization: Precision Vascular
Address: 300 N. Highland Ave Suite 365, Sherman, TX 75092, United States
Phone: +1-469-850-5760
Website: https://www.precisionvascular.com
Source: PressCable
Release ID: 89046233