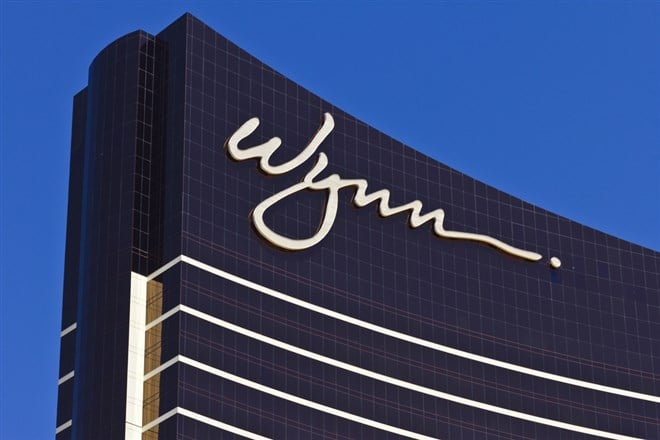 Casino operator Wynn Resorts Limited (NASDAQ: WYNN) stock is up +17% for 2023 as sentiment improves over the potential for a China re-opening in 2023. China has started to lift its zero-COVID restrictions after three years of lockdowns. How important is China, notably Macau, to Wynn? Macau used to account for nearly 70% of total revenues for Wynn Resorts during the pre-COVID era, even as Las Vegas traffic was falling.
The Macau government renewed Wynn Resort's gaming license for another 10 years and competitors Las Vegas Sands Corp. (NYSE: LVS) and MGM Resorts International (NYSE: MGM) in December 2022. This put one hurdle behind them, and lifting COVID restrictions appears to be the final hurdle. At least, that's what the stock action indicates.
However, Wynn nor its competitors are out of the woods. To get those license renewals, the three casinos must collectively invest $15 billion during that decade to help Macau diversify its revenues from its reliance on gambling and help boost international tourism.  
The Las Vegas of the East
Macau is the world's largest gambling market and the only place in China where casinos are legal. Macau generated six times the revenues of Las Vegas while occupying a tenth of the land in 2019 before COVID, when it generated $36 billion in revenues. It peaked at $45 billion in 2013. Fast forward to 2022, Macau generated just barely $5.3 billion for the year as December revenues fell (-56%) YoY. 
Mainland China
Over 90% of the visitors to Macau come from mainland China. Gambling in China is illegal, and the country has been cracking down on violators. Anyone who facilitates a mainland Chinese citizen to gamble can face a 10-year prison sentence.
This technically applies to junket operators tasked with reeling in high rollers. The country has been cracking down on the junket industry that has been attracting high rollers from the mainland. Chinese President Xi Jinping's administration
President Xi Versus Gambling
In 2020, President Xi clamped down on the gambling industry, responsible for an estimated $147 billion leaving the mainland. Regulators arrested Alvin Chung, who ran the largest junket operator Suncity Group Holdings on 200 counts ranging from money laundering, illegal casino operations, and operating a criminal syndicate.
The Macau government abiding by Xi's stance, took action and banned all junket rooms in its casinos and cut its licenses in half to 10 years from 20 years.
Gambling License Renewal Catch-22
While Wynn, Las Vegas Sands, and MGM received 10-year gaming license renewals, they came with a critical requirement that will be reviewed every three years to ensure compliance. It requires licensees to invest in local talent and non-gaming initiatives like finance, entertainment, and green technologies.
Notably, $15 billion of investment in the next 10 years from Wynn, Las Vegas Sands, and MGM must help curb Macau's dependence on gambling revenues and diversify itself with international tourism. The Chinese government is pushing Macau to diversify its economy beyond just gambling.
Keep in mind 80% of Macau's GDP came from gambling in the pre-COVID era. This could be a tough tailwind for foreign casino operators in the long run, but President Xi could change his mind just as he did with China's zero-COVID policy.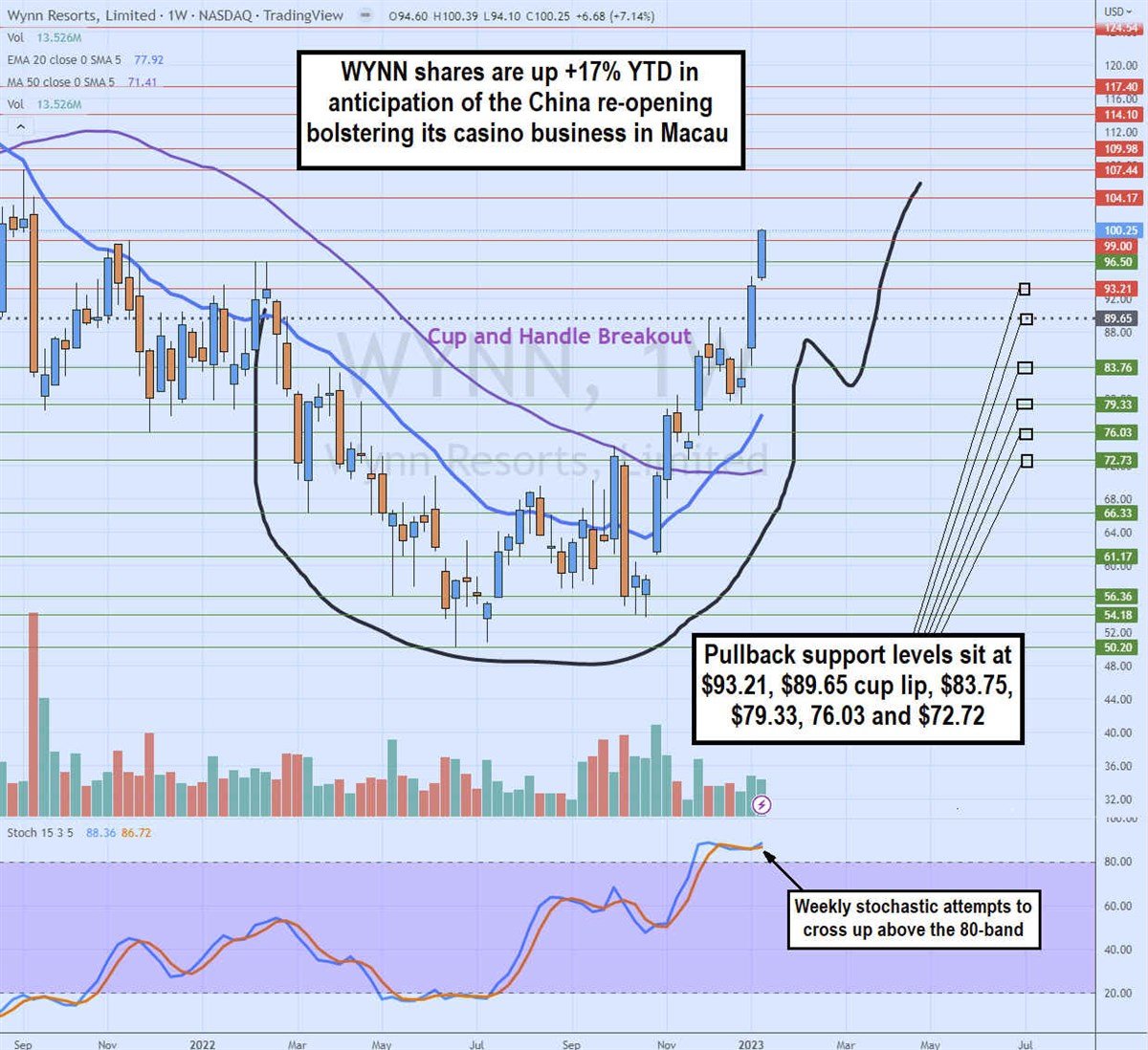 Weekly Cup and Handle Breakout
Like so many strong stocks in 2023, WYNN is forming a weekly cup and handle breakout. The cup lip resistance level at $89.65 was established in February 2022 as shares fell to a down of $50.20 by June 2022. A rounded bottom eventually formed as pullbacks were held at higher lows until the lip line was re-tested at $89.65 in December 2023 before pulling back to $79.33 to form the handle.
Shares surged through the lip line resistance on its second attempt in January 2023 as the handle extended higher. The weekly 20-period exponential moving average (MA) support is rising at $77.92, followed by the weekly 50-period MA at $71.41.
The weekly stochastic became overbought when it surged through the 80-band in November 2022. The stochastic has remained above the 80-band since then and looks to coil back up again on the latest breakout candle. Pullback supports sit at $93.21, $89.54 lip line, $83.75, $79.33 handle low, $76.03, and $72.73.