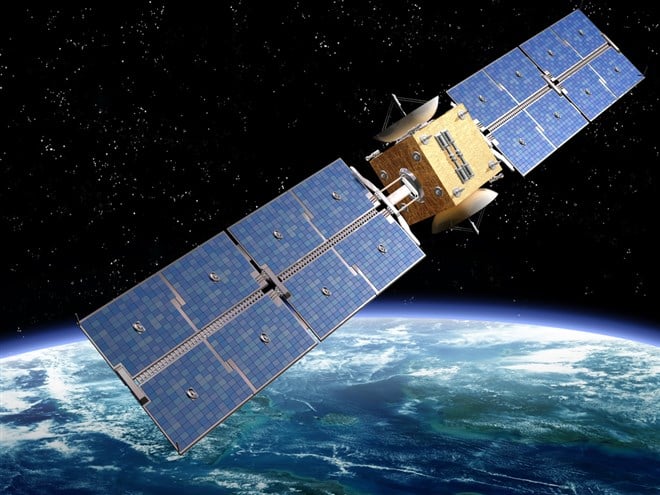 Terran Orbital Co. (NYSE: LLAP) makes and operates small satellites for the defense and aerospace industries. Its stock spiked over 80% on the news of being awarded a $2.4 billion contract. Its wholly owned subsidiary Tyvak Nano-Satellite Systems received $2.4 billion from Rivada Space Networks to design, build and launch 288 low-earth orbit satellites weighing approximately 500kg each. Terran Orbital will develop 12 spare satellites, bringing the total count to 300 satellites to build out Rivada's LEO constellation.
The company competes with other aerospace and satellite companies, including Maxar Technologies Inc. (NASDAQ: MAXR), Virgin Galactic Holdings Inc. (NASDAQ: SPCE), Space-X founded by Tesla Inc. (NASDAQ: TSLA) CEO Elon Musk, Blue Origin founded by Amazon.com Inc. (NASDAQ: AMZN) founder Jeff Bezos, and The Boeing Company (NYSE: BA).
About Rivada Space Networks
Rivada Space Networks provides satellite-based communication solutions to government and enterprise customers. It builds and operates a global secure satellite network that provides high-speed data, video, and voice communications for users in remote and underserved locations. It has customers in mission-critical services, including emergency responders, defense and security agencies, and energy companies.
About Terran Orbital Co.
Florida-based Terran Orbital is a small, vertically integrated satellite company that designs manufactures, launches, and operates satellites. The company went public through a reverse merger with a special purpose acquisitions company (SPAC), Tailwind Two Acquisition, in March 2022. This explains the stock collapse during the SPAC bubble explosion peaking at $12.69 and tanking to a low of $1.29 on Dec. 20, 2022.
Lockheed Martin Investment and Partnership
The world's largest defense company Lockheed Martin Co. (NYSE: LMT), invested $100 million through convertibles and warrants in October 2022. Funds are allocated to support Terran's manufacturing capabilities and acquire additional space for satellite module production. Terran also struck a new strategic cooperation agreement (SCA) with Lockheed Martin through 2035. It's constructing a constellation comprised of 96 Earth Observation (EO) satellites with electro-optical and synthetic aperture radar (SAR) capabilities for earth imaging services.
Growth Stage
On November 2022, Terran Orbital reported its fiscal third-quarter fiscal 2022 results for October 2022. Terran reported record revenues of $27.8 million, up 171% year-over-year (YoY). Net loss was $27.4 million, down sequentially from a net loss of $32.3 million in Q2 2022. The company grew its workforce to 440, up 78% from the beginning of 2022. Backlog grew 168% to $198 million, primarily from significant contract awards during 2022, including building 42 satellites for the SDA Tranche 1 Transport layer for Lockheed Martin.
The company had $35.8 million in cash and $202 million in gross debt obligations. It expects to deliver the next 42 satellites for Tranche 1 in 2023. It will open a new manufacturing facility in Irvine, CA, in the first quarter of 2023.
CEO Comments
Regarding its Q3 2022 earnings, Terran Orbital CEO Mark Bell commented, "We are especially gratified by the vote of confidence from our strategic partner Lockheed Martin as demonstrated by their $100 million investment and new thirteen-year Strategic Cooperation Agreement.
This investment from the nation's largest defense contractor validates that Terran Orbital today focuses on the right markets. Furthermore, it satisfies the Company's near-term capital requirements to deliver on our business plan."
CEO Bell also commented on its $2.4 billion contract award from Rivada, "Our partnership will show why Terran Orbital continues to be a satellite manufacturer of choice for aerospace and defense companies worldwide. We are ecstatic to work alongside Rivada and look forward to building out their LEO constellation."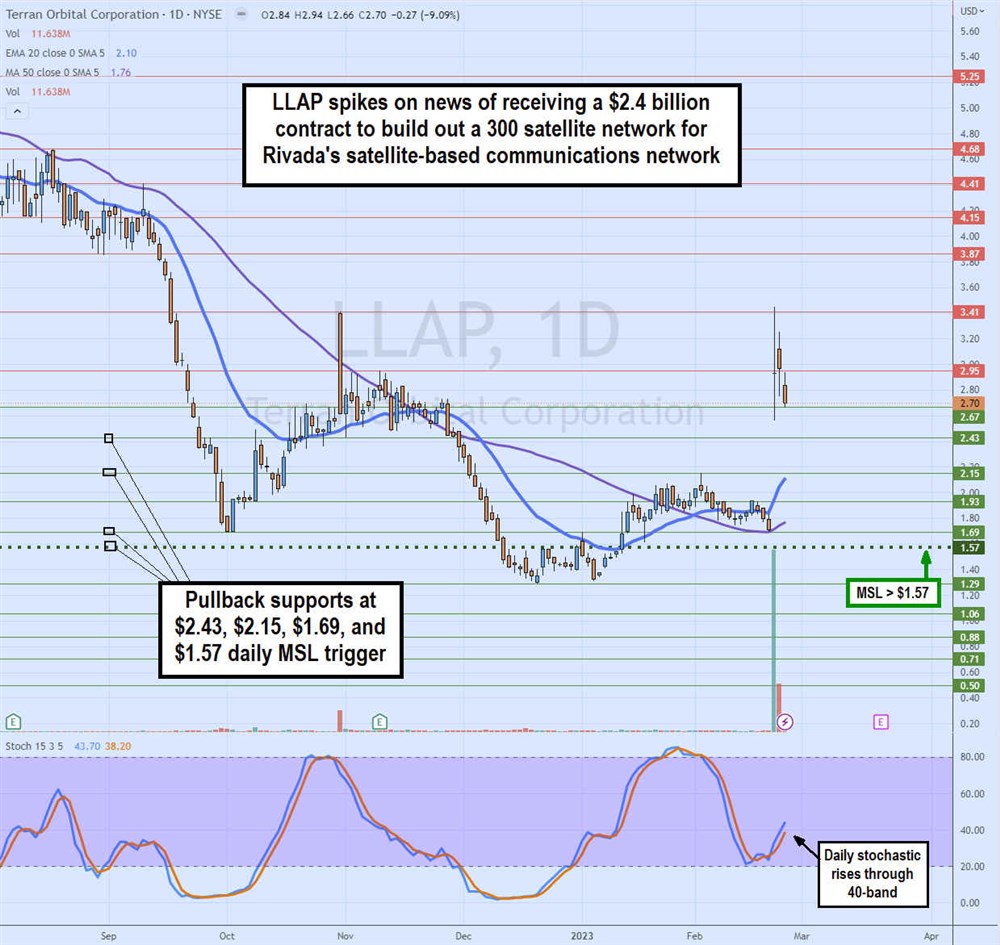 Daily Breakout
The daily candlestick chart shows a heavy volume breakout in shares of LLAP. Shares triggered a breakout on the daily market structure low (MSL) buy trigger at $1.57 peaking at $2.15. Shares pulled back to $1.69 before news of the $2.4 billion contract award was announced. Shares gapped spiking up to a high of $3.45 before reversion back to $2.67. The daily stochastic has crossed back up through the 40-band. The daily 20-period exponential moving average (EMA) support is rising at $2.10. The weekly 50-period secondary support is also rising at $1.76. A reversion is set to continue until a new base is solidified. Pullback support levels are at $2.43, $2.15, $1.69, and $1.57 daily MSL trigger.