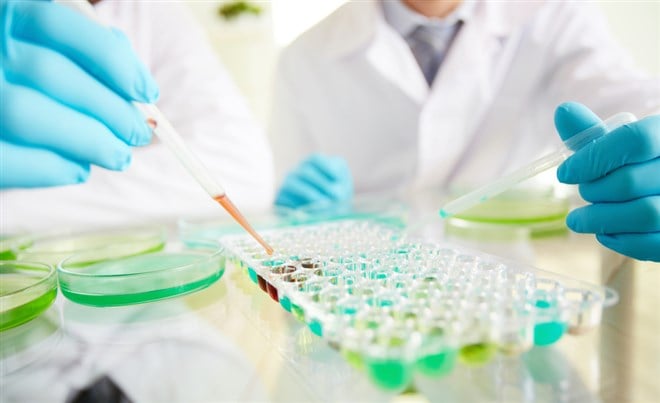 Investors in Revance Therapeutics Inc. (NASDAQ: RVNC) shouldn't have much to frown about after the stock gapped up 54.34% on January 9, and built upon those gains in February.
Is this a stock to keep an eye on due to its strong future potential?  
Shares fell on March 1 following the company's fourth-quarter earnings report. The company lost $1.82 a share, below analysts forecasts of a $1.04 a share loss. However, the revenue of $49.92 million topped analysts' consensus views by 6.62%. 
That marked a year-over-year sales increase of 92% on the top line.
On January 9, the day the stock gapped more than 54% higher, as you can see on its chart, the company said it expected preliminary unaudited Daxxify revenue from PrevU, its early experience program, to be between $10.5 million and $11.5 million in the fourth quarter 2022. That was the first quarter Daxxify was commercially available following its FDA approval. 
Revenue At Midpoint Of Range
Daxxify Revenue came in at $11 million, the midpoint of the projected range, which may have disappointed some investors looking for something closer to the top of the range or even above that. 
That revenue came from 400 doctors in the PrevU program who were given early access to begin the use of the treatment. A full launch of Daxxify for cosmetic use is planned for late March.
Revance also generates revenue through dermatological fillers marketed through its RHA Collection program. 
The January 9 leap followed FDA approval for a supplemental use of its Daxxify treatment and the company's update on expected 2022 results. 
In September, Revance got regulators' nod for Daxxify, a competitor for Botox. 
Daxxify has similarities to AbbVie Inc.'s (NYSE: ABBV) Botox in that both use a botulinum toxin as part of a neuromodulator, which affects how nerves work. Daxxify freezes facial wrinkles and lines, including frown lines, to give a smoother appearance.
Fewer Injections Needed
However, Revance says the advantage over Botox is that injections last longer, with patients needing a return visit to the doctor every six months instead of every three months. 
The wait for approval has been long, with Revance originally submitting FDA approvals more than three years ago. There have been other Botox competitors in the past, but Wall Street analysts like the prospects for Daxxify, as MarketBeat data indicate. 
Analysts have a "moderate buy" rating on the stock, with a consensus price target of $40.09, representing a potential upside of 23.32%. 
Revance has also known that there could be other applications for Daxxify, in addition to cosmetic use. One of those applications got the OK in January when the FDA approved Daxxify's use to treat cervical dystonia, a painful condition in which a patient's neck muscles contract involuntarily, causing the head to twist or turn to one side. The condition can also cause uncontrollable head movements.
"Painful symptom re-emergence is very common for patients with cervical dystonia, and up until now, physicians have not been able to address this issue with existing treatment options fully," said Peter McAllister, M.D., who was involved in running the clinical trials.
Opportunity In New Market
According to Revance's January 6 release of the new approval for Daxxify use, FDA acceptance "advances Revance's opportunity in the nearly $1.0 billion U.S. muscle movement disorder market, including cervical dystonia and spasticity."
In its fourth-quarter report, Revance said the commercial launch of Daxxify for cervical dystonia is planned for August 19.
Revance shares are up 59.83% in the past three months and 87.97% this year. 
Revance went public in 2014 and has yet to turn a profit. That lack of profitability is extremely common in the biotech industry, where research and development can take years. There's also the process of clinical trials and waiting for FDA approval. 
Eventual Acquisition Target?
In Revance's case, the wait appears to have paid off, although Wall Street doesn't expect profitability this year or next. 
It's worth noting: Another common aspect of biotech is to see a small company like Revance develop a product and even bring it to market and eventually be acquired by a larger pharmaceutical company with greater sales and marketing scope. 
Despite the lower trade following the company's fourth-quarter report, Revance has plenty of potential and could make a good watchlist candidate for investors willing to stomach some of the inherent volatility in the biotech sector.