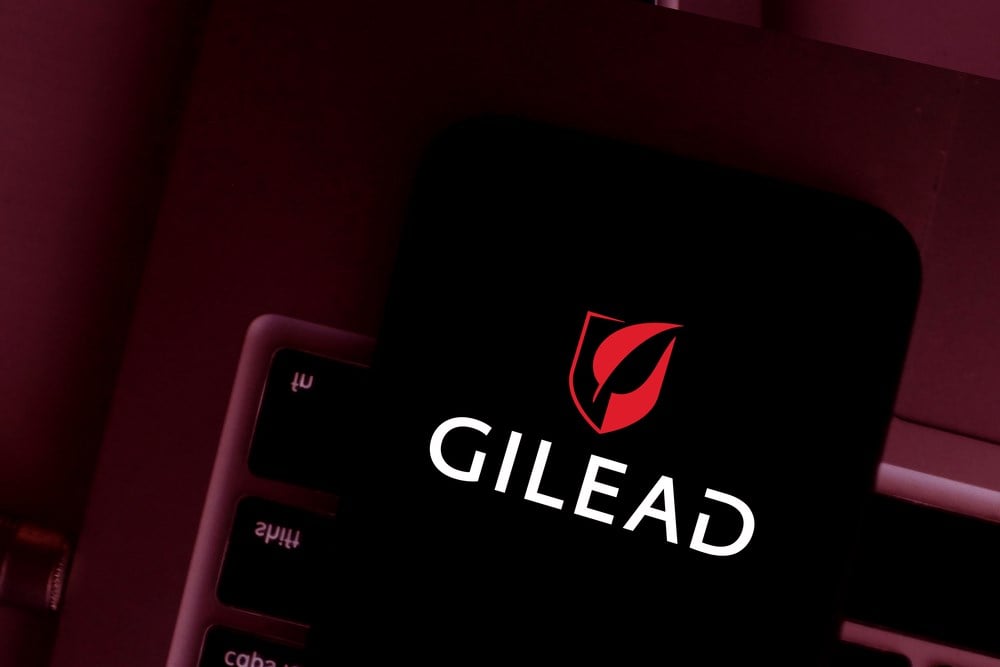 In recent Securities & Exchange Commission filings, Gilead Sciences Inc. (NASDAQ: GILD) revealed that it had purchased significant stakes in AlloVir Inc. (NASDAQ: ALVR) and Arcus Biosciences Inc. (NYSE: RCUS). 
When you think of shareholders snapping up ownership in a particular stock, you probably think of hedge funds, university endowments, insurance companies, mutual funds, or even yourself, via your brokerage or retirement accounts.
However, it's not unusual for big businesses like S&P 500 component Gilead to be significant shareholders in other companies. They typically have strategic reasons for accumulating shares in other companies, which makes those purchases worth watching. 
On June 27, Gilead purchased 2,930,870 shares of AlloVir for $3.75 apiece. On June 21, AlloVir announced the pricing of 20 million shares at $3.75, so it's likely the Gilead purchase was part of that block.
AlloVir Gapped Down On Share Offering 
AlloVir is an extremely volatile stock, but that's not unusual for a young biotech. Shares gapped down nearly 36% on June 21 as the company priced the new share offering. That's a big decrease, but such gaps are not unheard of in a small company whose shares are being diluted. 
AlloVir develops what it calls "off-the-shelf" virus-specific T-cell therapies. The idea is to harness the immune system's power to fend off viral diseases. In the context of AlloVir's T-cell therapies, "off the shelf" refers to the use of pre-manufactured and readily available treatments that can be used without the need for personalized customization or genetic modifications for each individual patient.
AlloVir went public in 2020, and has yet to book any revenue, which is not uncommon for early-state biotechs still developing treatments in their pipeline before commercialization.  
There's a connection between Gilead and AlloVir: The latter's CEO, Diana Brianard, worked at Gilead for a decade, heading up the virology therapeutic area. 
Gilead Has History Of Backing AlloVir
Gilead has long been a financial backer of AlloVir, helping to finance the startup's development of treatments in the pipeline. The most recent round of share purchases simply added to Gilead's stake in the company. 
On June 28, Gilead purchased 1,010,000 shares of Arcus Biosciences for $19.26 each. Arcus shares spiked 4.36% on June 28. 
Arcus Biosciences develops cancer immunotherapies to enhance the body's immune response against cancer, utilizing a diverse pipeline of treatments.
Arcus went public in 2018, and has a market capitalization of $1.72 billion. It's not profitable. It generates a small amount of revenue primarily through upfront and milestone payments, research and development support, and clinical materials reimbursement from strategic partners Gilead and Japan-based Taiho Pharma. 
Development & Commercialization Partnership
Arcus has an existing partnership with Gilead, which specializes in the development and commercialization of innovative therapeutics in areas such as HIV, viral hepatitis, and other infectious diseases. It also has treatments for fungal and cardiovascular diseases. 
Arcus' partnership with Gilead involves collaboration to discover and develop cancer immunotherapies and combination therapies, which are multiple treatments used together.
Companies buy shares of other companies for various reasons, often with the aim of achieving strategic objectives and maximizing shareholder value. A company can achieve those objectives by expanding into new markets or industries, diversifying its business portfolio, acquiring valuable assets or technology, entering into strategic partnerships, or enhancing product offerings, among other reasons.
In the world of biotech, it's pretty clear why a big company like Gilead would invest in smaller companies like AlloVir and Arcus. The intellectual property portfolios at those companies can be marketed by Gilead, either through a licensing agreement, partnership or outright acquisition. 
Amgen's Investment Portfolio
These investments aren't uncommon in the biotech world. For example, Amgen Inc. (NASDAQ: AMGN) owns shares of BeiGene Ltd. (NASDAQ: BGNE), Vigil Neuroscience Inc. (NASDAQ: VGIL), Frazier Lifesciences Acquisition Corp. (OTCMKTS: FLACU), and Jasper Therapeutics Inc. (NASDAQ: JSPR). Amgen is a significant owner of BeiGene, with a 19.61% stake. It owns 8.98% of Vigil, 5.98% of Frazier Lifesciences and less than 1% of Jasper. 
Amgen has a deal with BeiGene to commercialize cancer treatments in China. BeiGene is a biotech focused on developing and commercializing innovative molecularly targeted and immuno-oncology drugs.
The company also has deals with Novartis AG (NYSE: NVS) and Bristol-Myers Squibb (NYSE: BMY).