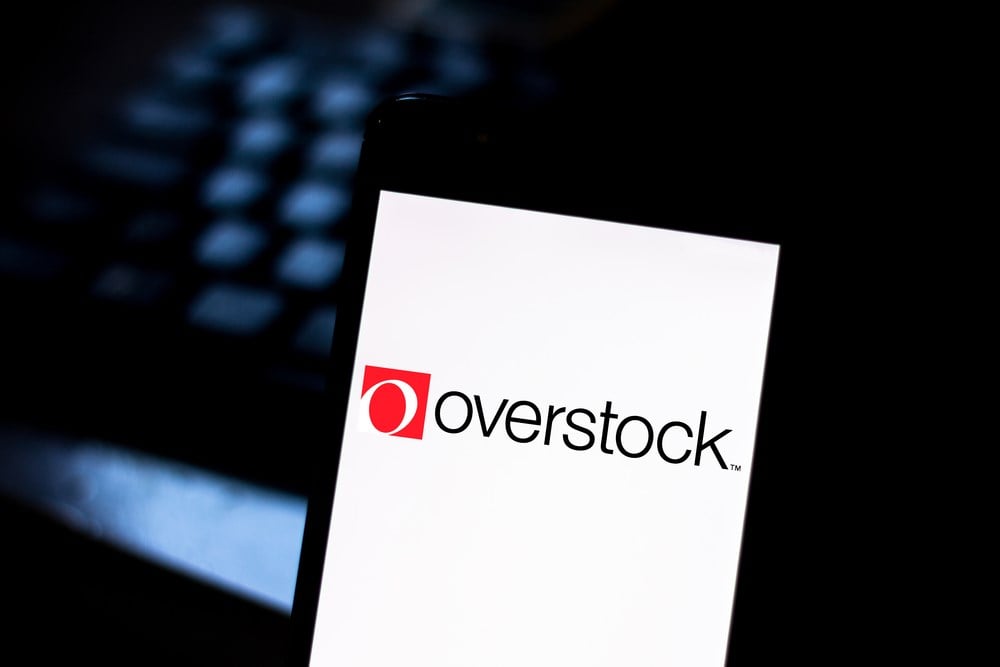 What do online home furnisher Overstock.com, Inc. (NASDAQ:OSTK) and clothing retailer Burlington Stores have in common? Both are turning to the bankrupt Bed Bath & Beyond to generate inexpensive growth. 
In the case of Burlington, it's 50 shuttered Bed Bath & Beyond locations to drive brick-and-mortar expansion. For Overstock, it's about much more. 
Last week, the struggling e-commerce challenger announced that it acquired the Bed Bath & Beyond website, customer database and other digital assets for $21.5 million in cash. Assets related to Bed Bath's physical retail footprint were excluded from the deal.
The bold move will also see Overstock take on the well-known Bed Bath & Beyond name. The company plans to re-launch new websites, mobile apps and loyalty programs in the U.S. and Canada in the coming weeks. 
The news helped Overstock.com finish the week in style on a 27.5% two-day run. After surging 61% in the second quarter, the stock is now a top 100 Russell 2000 performer in 2023. 
The unlikely ascent comes after Overstock reported a seventh consecutive period of lower sales and a net loss in the first quarter. Tucked away in the Bed Bath & Beyond press release was a preview of the second quarter financials. Due to weak consumer sentiment and promotional activity, Q2 sales are estimated to have declined "in the low-20% range" compared to last year. 
Blaming the tough macro backdrop has some merit. Consumers are simply spending less on big-ticket items. But there are two reasons for concern: 1) June consumer sentiment came in higher than expected and is up 28% year-over-year and 2) some home furnishing peers are growing. In Q1, fellow small caps Aarons and Arhaus each grew their sales more than 20%. 
These suggest Overstock's underperformance is about more than the economy. In the highly competitive furniture market, Overstock.com just isn't a strong name in consumers' minds — hence the re-branding. But switching to a Bed Bath & Beyond brand that former shoppers may associate with bankruptcy (a.k.a. failure) could fall short, if not backfire.
How Did Wall Street React to the Overstock News?
Wall Street research groups have thus far had mixed reviews of the digital Bed Bath & Beyond shift. Barclays stuck with its Hold rating and gave Overstock a $19 price target. Considering this represents more than 40% downside from Friday's close, a Sell may be more fitting. 
Jeffries also took a neutral stance but, in recognition of the new brand's value, raised its target to $32. This implies that the news is already fully baked into the share price. Wedbush struck a bullish tone in reiterating Buy, but its accompanying $34 target is far from bullish.
At the extreme other end, D.A. Davidson gave Overstock an outlandish $92 target that suggests the stock will nearly triple from here. It's unclear to what extent traders used this information during the high volume run up, but chances are this had a significant impact. The D.A. Davidson analyst has a strong track record in e-commerce following well-timed calls on Shopify, Etsy and Fitbit.
Is Overstock.com Technically Overbought?
On the daily chart, Overstock's relative strength indicator (RSI) reading of 79 is the highest it has been since November 2021. This marked the stock's final days above $100 before dropping as low as $17. Not a great precedent. 
Nor is the fact that Overstock outstretched its upper Bollinger band by 10% on Friday. Similar breaches in the post-pandemic era have been followed by steady downturns. Friday's trading volume being half what it was on Thursday also suggests the rally may soon fizzle.
With this said Overstock is now dangerously close to its 250-day resistance level of $33.90. If it can break through that line with conviction, a move to the $40's and 'beyond' is plausible. Volume will need to be heavy, however, to believe that can happen.
While the re-branding news sparked enthusiasm for Overstock shares, it will ultimately have to translate to stronger sales and profits. Until the fundamentals improve drastically, the news will amount to a PR gimmick. 
Get the loofah ready. Investors that chase the stock here could take a bath.