--News Direct--
Forrestania Resources Ltd (ASX:FRS) MD Michael Anderson tells Proactive that recent assays from the flagship Forrestania Lithium Project in WA's southern Yilgarn region have intersected spodumene-bearing pegmatite in multiple drill holes. The results come from a follow-up reverse circulation (RC) drilling program at South Iron Cap East, with peak lithium assays of up to 0.95% lithium oxide (Li2O) demonstrating the potential to host ore-grade mineralisation. FRS has a favourable outlook on the likely unearthing of a significant mineral-rich pegmatite formation at greater depths. The characteristic tendency of regional pegmatites to narrow and expand seem to back this optimism up.
"Our work in and around South Iron Cap East continues to deliver results which highlight the potential for discovery of a significant mineralised system," Anderson said.
"We know the region is host to multiple, stacked pegmatites (including at the world-class Mount Holland Lithium Mine) and we are now consistently finding spodumene and highly anomalous lithium grades.
"We remain convinced of the prospectivity across the Forrestania project and believe that a continuation of our systematic approach will ultimately unlock the potential value for our shareholders."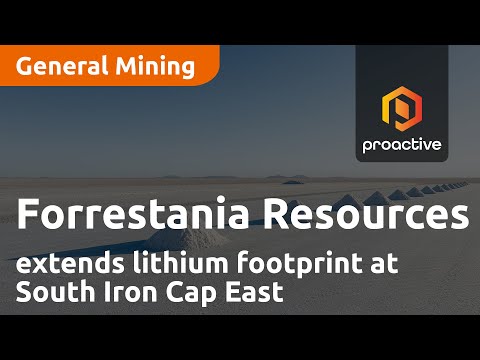 Contact Details
Proactive Investors
Jonathan Jackson
+61 413 713 744
jonathan@proactiveinvestors.com
View source version on newsdirect.com: https://newsdirect.com/news/forrestania-resources-extends-lithium-footprint-at-south-iron-cap-east-980253934