Is Short Duration the Best Way to Invest in the Bond Markets Right Now?
January 02, 2020 at 10:47 AM EST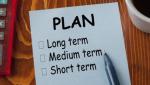 Given the Federal Reserve's turnaround from its rate-hiking measures in 2018 to its rate-cutting in 2019, it's difficult to implement a bond strategy without knowing what the central bank will do in the future. In this current market environment, is short duration the way to go? It's a pertinent...