Are We Entering a 'New Golden Decade' for Municipal Bonds?
May 13, 2021 at 08:00 AM EDT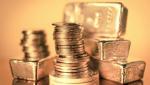 With higher yields and more stability to offer fixed income investors, municipal bonds are all the rage in the debt market. A pair of active funds to consider are the IQ MacKay Municipal Intermediate ETF (MMIT) and the IQ MacKay Municipal Insured ETF (MMIN). With its active management strategy,...