Has Gold Lost Its Luster?
July 27, 2022 at 09:04 AM EDT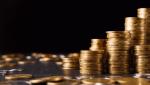 As the reality of inflation has set in, many gold bulls have been disappointed that gold hasn't truly taken off. For most of the past few quarters, gold's felt pretty flat. Putting aside that there are plenty of securities that would kill to be merely flat in this market environment, it is worth digging into [...] The post Has Gold Lost Its Luster? appeared first on ETF Trends .